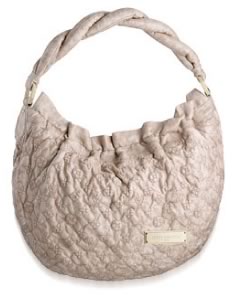 'Tis no secret that I am extremely partial to Louis Vuitton. LV was the first high-end designer I indulged in, the LVOE train was a hard one when it hit me. Whenever an LV boutique is near by, I have to stroll in to see if there's anything my LVOEing eye appreciates while depreciating my bank account.
Yesterday, Saks Fifth Ave had their big pre-season sale going on, which Megs and I couldn't pass up. We both eventually walked out with some Theory, Lacoste, Hugo Boss, and misc. other goodies (shout out to our man Scotty at the Polaris Saks in Columbus), but not before taking a peak at the tiny Louis boutique that was present to our convenience.
To our delight, a new bag appeared before our eyes, one that I wasn't aware of until then. The Louis Vuitton Olympe Nimbus in Ecru is a creation from LV's Show Summer Olympe collection, a lightweight, comfortable bag with a resin LV plaque. It was a very elegant and pretty bag, definitely Megs-&-Vlad-approved.
After doing a little bit of research on LV's official site, I learned that the Nimbus has two other cloudy siblings, the Stratus GM and the Cirrus, both of which are shown after the jump. The Nimbus was $2,520 at the boutique, I believe the Stratus GM and Cirrus will be around the same price range. As usual, keep an eye out for these beauties at the official Louis Vuitton online store at eLuxury.com, don't dare to have any other site make you believe that you can purchase authentic Vuitton elsewhere.

Louis Vuitton Olympe Stratus GM