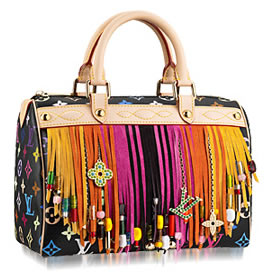 Originally, I planned to report on a new Louis Vuitton bag that I had seen while windowshopping two days ago on the Berlin Ku-Damm. For those who aren't familiar with the Kurfuerstendamm, it's the Berlin equivalent of NYC's 5th Ave. All the top names in fashion have their stores lined up on the long strip leading away from the famous Gedaechtniskirche, a church that was bombed during World War 2 and was never restored (in order to serve as a monument reminding people of the terrible war). As I was in Berlin for only a good day, I didn't have the time to actually check out what the exclusive fashion world had to offer all of us, but I sure did have the opportunity to check out what the store fronts had to offer. Sadly, I couldn't find the Speedy that I saw in the showcase on LV's site, instead I ran into this monstrosity of a bag.
This Louis Vuitton Speedy in Monogram Canvas sports a colorful, wide strip of suede fringes, each of which has several beads hanging off of it. Glass paste tube beads inset with gold leaves, lozenge in brown glass paste, grey pierrite, golden brass sphere, you name it. In addition to that, it has 8 LV signature charms dangling all over the place. Not a big fan… hideous. Rastafarian meets classic Vuitton. I'll pass.
Click here to shop for authentic Louis Vuitton at eLuxury.com!