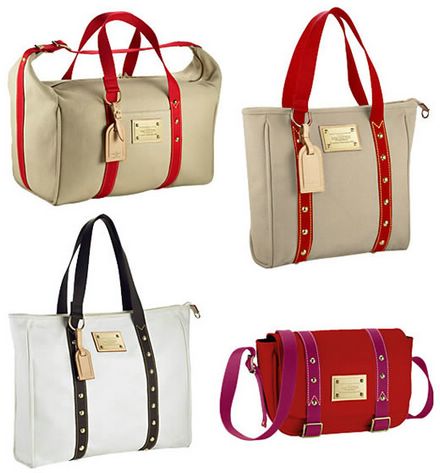 Megs and I are very fortunate to be spending a few days at her home town of Fort Lauderdale, FL. The weather blows, lots of rain and red flags by the beaches. But fortunately, the area is a wonderful place to catch up on the newest and the hottest in the world of fashion. What place better could there be than the Bal Harbour Mall in Miami? With many of the most exclusive designers being represented with their respective stores, Bal Harbour ranks probably among the top malls in the US for doing your ridiculously expensive couture shopping. The stores enjoy a variety of very exclusive limited edition pieces that are very rare and hard to find – more on those items tomorrow.
First things first. We strolled into the Louis Vuitton store, just to get a hands on feel for their brand-spankin' new Antigua bags. The line manifests the classic nautical spirit with supple cotton canvases and contrasting shades, creating versatile travel gear. First up on the top left is the Louis Vuitton Sac Week-end. The travel bag has its cotton canvas shaped into a classic weekender silhouette, with contrasting handles accented by the iconic Louis Vuitton luggage nails. A shiny, polished logo nameplate and cowhide luggage tag round up the package. The 29.1″ x 10.6″ x 10.6″ bag comes in red/purple or red/beige (pictured) for $925.
Top right reveals the Louis Vuitton Cabas MM. The brightly contrasting handles punctuate the supple cotton canvas exterior, while the roomy interior creates a beautifully versatile bag that's made for travel. Finished with golden LV hardware, the logo nameplate, and a natural cowhide luggage tag. The 11.8″ x 3.8″ x 11.6″ tote costs $640 and is available through eLuxury. The Louis Vuitton Cabas GM sports the same shape, is slightly larger in width and height (16.5″ x 3.7″ x 14.1″) and comes with a black/white contrasting canvas. For $715 through eLuxury.
The Louis Vuitton Besace PM blends the best of classic LV messenger bags of elegant holiday style into a casually sophisticated city bag. The distinctive satchel shape is punctuated with brightly contrasting straps, a sleek logo nameplate, and polished golden hardware that recalls the vintage Louis Vuitton luggage nails. This bag can be yours for 715 dollars.