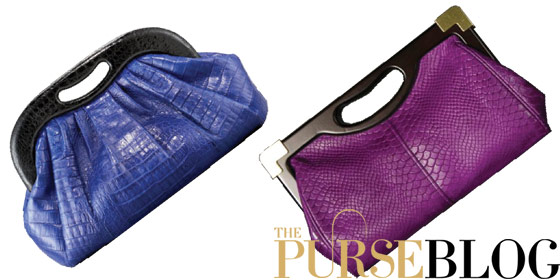 In our never-ending periodic quest to find stylish options at a variety of price points, today we have a reasonably priced alternative to the Nancy Gonzalez Hand-Held Croc Clutch that I wrote about last month. I liked it so much that I went on a search for a budget-friendly alternative to add to my wardrobe, and the best contender I've found is the Rebecca Minkoff Lovers Clutch.
To me, the most important parts of the Nancy Gonzalez clutch to replicate the look were the contrast between a bright body and a dark handle and the exotic texture. Since detailed clutches in real exotic skins don't come around very often at the price point I was hoping to find, embossing will have to do. The magenta of the Minkoff clutch provides a reasonable alternative to Gonzalez's bright blue, and the color's contrast with the wood trim is similar to the contrast with the dark crocodile.
Exotic embossing almost always looks a tad cheap even on nice leather, but this example of it seems better than most. Either of these clutches are choices that would likely garner you a lot of compliments, but the Rebecca Minkoff version will run you a reasonable $240 (on sale from $325) compared to Gonzalez's much steeper $3200 price point.
You can buy the Nancy Gonzalez via Neiman Marcus, or the Rebecca Minkoff via Luna Boston.