Dear Millie,
I don't even know where to start, but month four was quite a doozy! This month has tested me in ways I wasn't prepared for and showed me how deep a parent's love for their child is. Month four truly taught me what it must be like for all parents out there–we want to do anything to make sure our child is ok.
You've had some health problems this month, and it started out rather benign. We kicked off the month learning you have torticollis, which literally translates to twisted neck. The doctor thinks it may have started in utero with your positioning, and the physical therapist said a lot of babies have this now as there's a huge push for the "back to sleep" movement, meaning having your baby sleep on their back. Your head was always wanting to turn to the right, and that ended up making your one tendon become tight and you favored turning your head to one side and not the other. The doctor wanted you to start physical therapy, and with a few simple stretches and repositioning your body when you fall asleep, we've already made great progress. You're not a huge fan of physical therapy, but we ended up at a super kid-friendly PT spot, and you seem fairly intrigued by all of the kids in one room with you. I'm not a doctor or physical therapist, but to the other moms out there with little ones, I'd suggest being sure to change up your baby's head position when they fall asleep. I'm sharing this in hopes of any other parent reading it may learn something from it and help their baby!
The next health problem is the one that has me and your dad a bit stressed. I now truly understand when a parent says they would do anything to take the pain away from their child, because Millie, I would do anything to not have this be happening to you. You've been having gastrointestinal issues, namely blood in your stool. I've gone back and forth about wanting to share this in your letter this month, but I always find that so many others have their own struggles and sharing always seems to help. Someday I hope this is a distant memory, but right now it's been incredibly time-consuming and worrisome. Overall, no one would even realize you had anything going on! You're so happy and don't any other outward signs of distress. We have you at a gastroenterologist, who you quite like, even after he has to press on your belly. We are still in the middle of trying to figure out what's happening with you, and that's meant blood draws and stomach ultrasounds and more doctor visits. You keep smiling through it all, even when you had to fast before your abdominal ultrasound. (Which I was CERTAIN was wrong medical information, but it wasn't).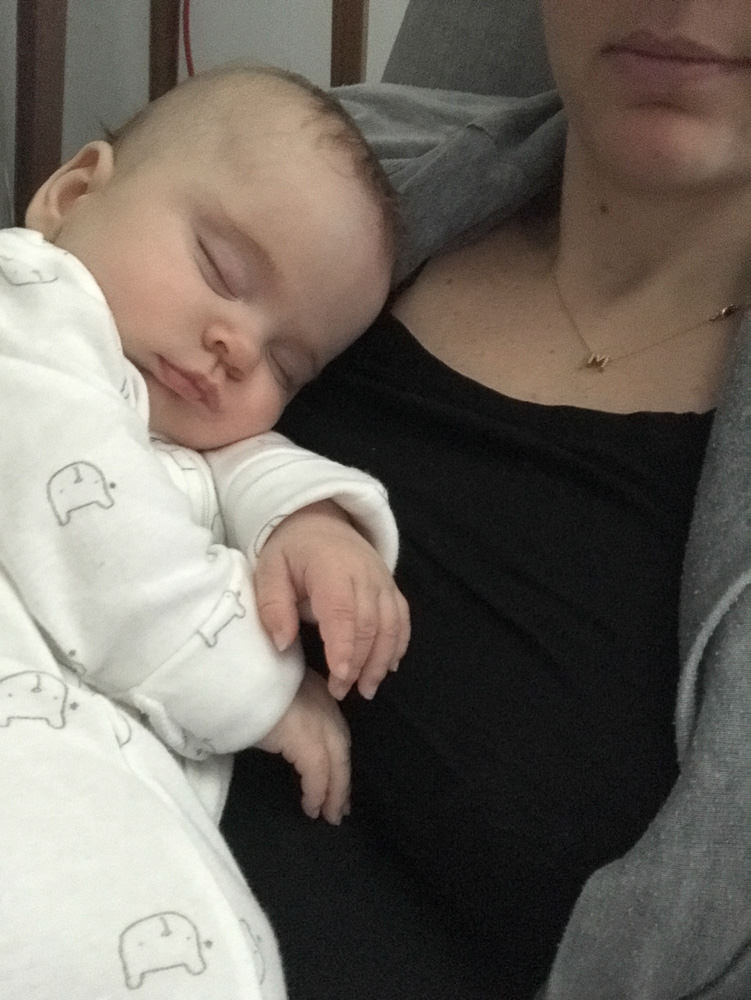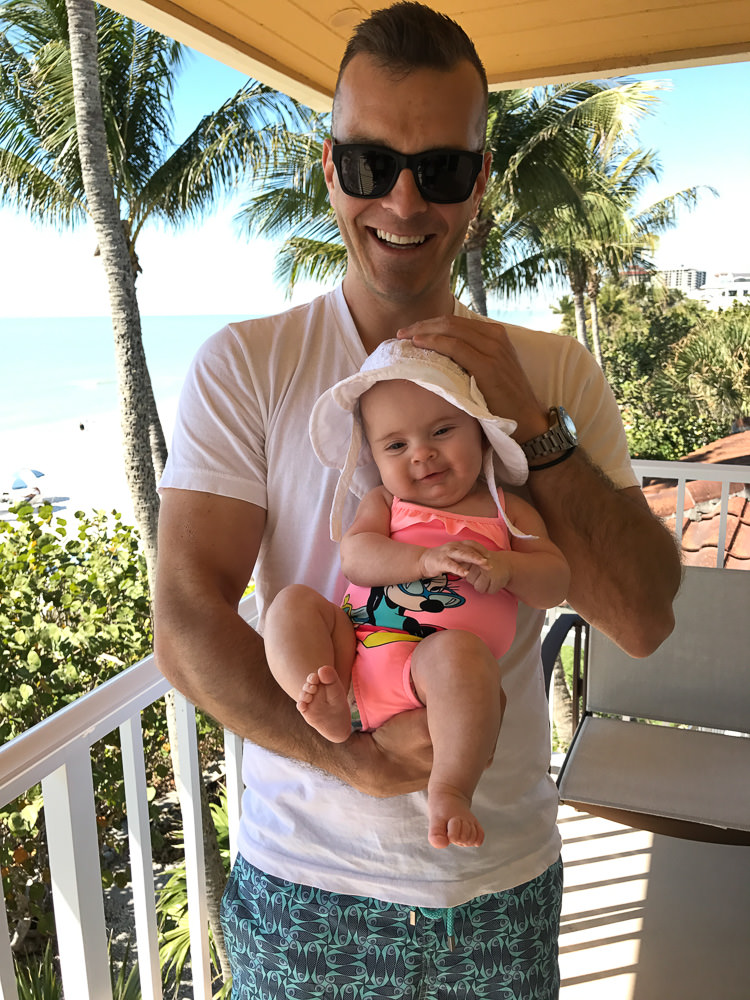 There is a possibility this is all allergy-related, and we've tried to get you to take hypoallergenic formula. However, you are incredibly dramatic about the formula, and even if a drop touches your tongue, you spit it out. To be fair, you won't take breastmilk out of the bottle either–in fact, you won't take the bottle at all. We've tried different bottles, different people offering the bottle, me being in the house, me being out of the house, you being very hungry, you being slightly hungry–the end result is always the same. (If any of you moms had any luck with a bottle-hating baby, please do share below! I'm open to any and all suggestions.) I've completely changed my diet to remove all major allergens, so if it is allergy-related, I can help. It hasn't seemed to make a difference so far, but I am trying everything and anything I can. I feel so bad that you have anything bothering you, and I would do anything to make it better for you baby girl.
But this month hasn't just been doctors and tests, though there's been tons of that. This month has also been lots of fun with you! You discovered your feet and continued to become obsessed with your hands. Kid, your hands are the coolest thing you've ever seen. Sometimes I catch you just intertwining your fingers and staring at your hands, other times you are sucking on your entire fist with massive quantities of drool going down your face and shirt, and lately you've really nailed sucking your thumb and do it often to soothe yourself to sleep. If it's not your hands, it's your feet or your ears. You were yanking on your ears so much I thought you had an ear infection so I took you to the doctor. Rookie mom move there–your ears were totally fine, you just think it's amazing that you have these two things attached to either side of your head so you grab at them all day.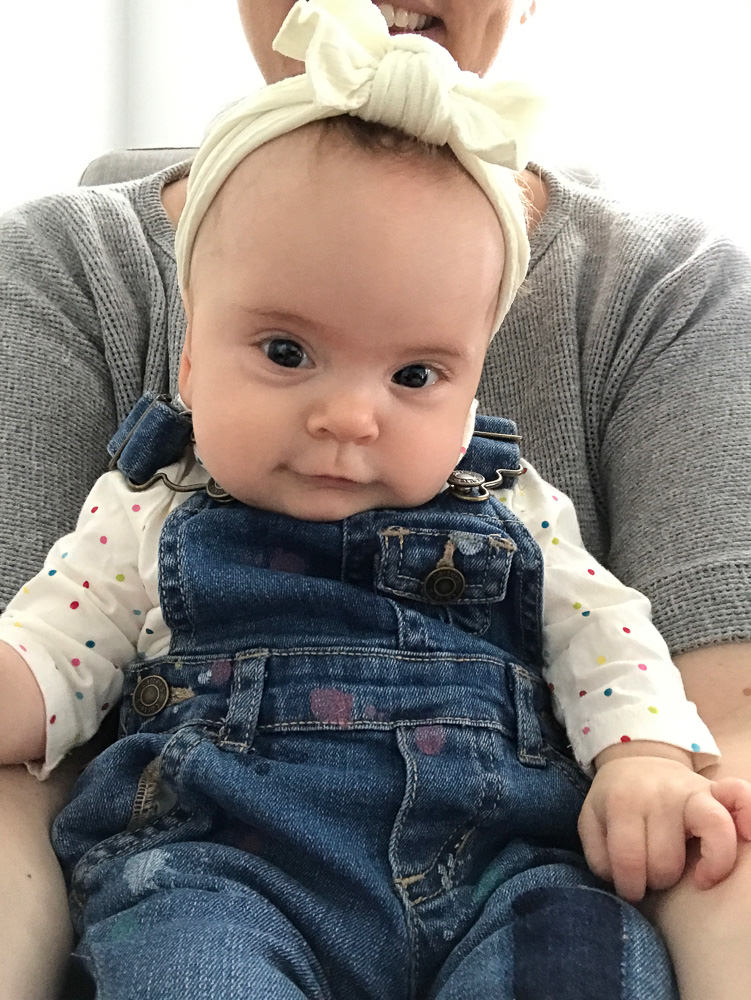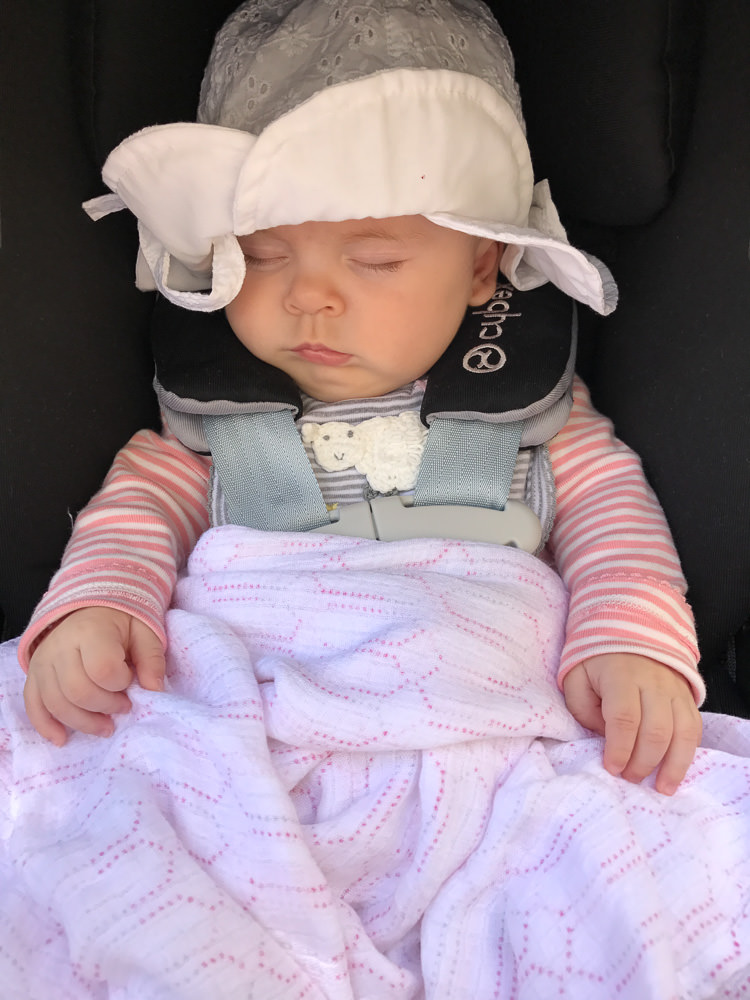 You've also started to like playing with toys, which I love watching. It doesn't seem like much, but the transition into holding toys and really enjoying the texture and color of them is pretty cool to watch. You still smile all the time, especially for me; you love giving your mama smiles. Your version of laughing is squealing super loudly, and it's left you with the nickname 'Baby Bird' from your dada and I. Sometimes the squeal starts off so delightful, but there's this turn in your voice that lets me know we're moving from happy squeal to sad squeal and while you haven't done it often, you nailed your sad squeal as well. You love listening to music and immediately light up when Moana's "How Far I'll Go" comes on. For some reason, you seem to think I have a great voice and smile so big when I sing along to that song. But, unlike many American Idol contestants, I know I'm not making it to the big stage. Someday you'll be embarrassed of my singing, but right now, you think I'm pretty good.
We took our first trip with you; it wasn't long or far, just to the West Coast of Florida for a night. Your put your toes in the ocean and had lunch by the pool. We took you for walks on the beach and you loved watching the ocean water roll in and out of the Gulf of Mexico. You were such a good little traveler–slept the entire time in the car, both there and back (it was only about a two-hour drive, but that was pretty great to have you contently sleeping the whole way!).
Each month a bit more of you shines through and I fall more in love with everything about you on a daily basis. My love for you is something fierce, and I would do anything to take any pain away from you. I want you to have the best life, and mama is doing everything she can to take care of you and make the best choices for you. You have made me a mother, and I thank you for that daily. I love you, baby bird.
Love,
Mama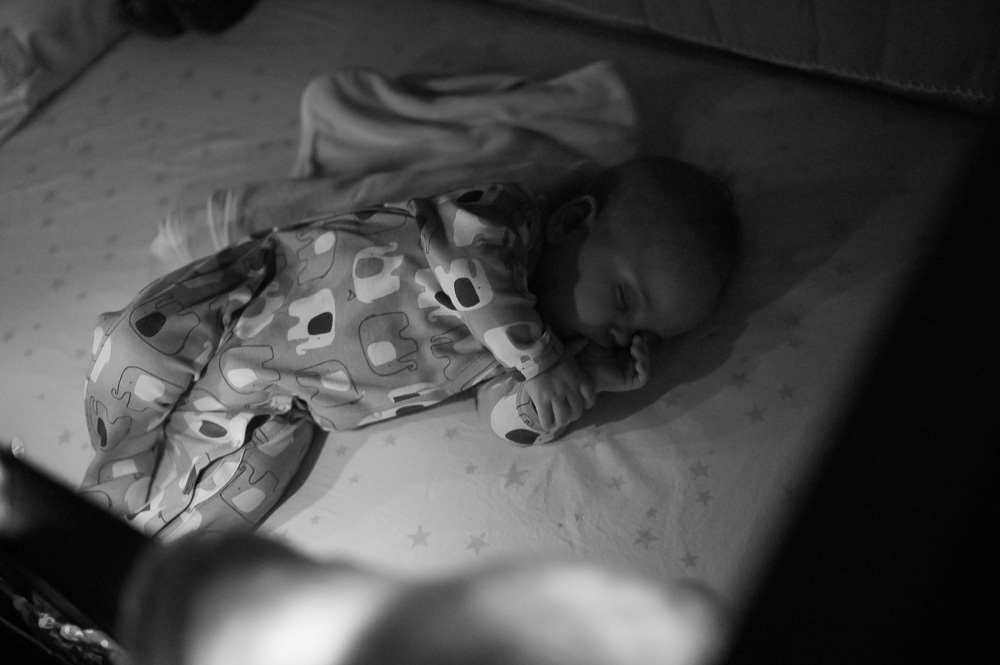 P.S. Please consider supporting our small, bag-loving team by clicking our links before shopping or checking out at your favorite online retailers like Amazon, Neiman Marcus, Nordstrom, or any of the listed partners on our shop page. We truly appreciate your support!