Dear Millie,
Everyone told me that month five is where you really start to see your baby's personality, and boy they were right! You light up the room. I think every parent thinks their baby is happy, and we are no different, but truly, you are such a happy baby! You love smiling, you love being smiled at, and you think that I'm pretty funny. You now recognize my face from far away and get so excited when I lock eyes with you. In the morning when I snuggle with you in bed and you're still sleepy, you like to gently (and sometimes not so gently) put your hands on my face and feel my eyes, nose, mouth, and skin. It's like you're still discovering me, and I don't know that my heart could feel any fuller.
You've made "friends." and I say that loosely because I don't think you know that they are your friends yet. There are kids in the neighborhood we see often when we are our on our walks, and they love seeing you (and you, them). They hold you and play with you, and while you can't interact much yet, I'm so happy we live by so many kids that adore you and are already protective of you. When we are walking down the street, your friends see you coming, they come running for you! They hold you on their little rocking chairs and tell you stories, they made you Easter eggs, and you even have your own secret song your self-proclaimed (and I don't disagree) best friend sings to you. It's so cool to watch, and I know that as you get bigger, you'll be able to actually play with them!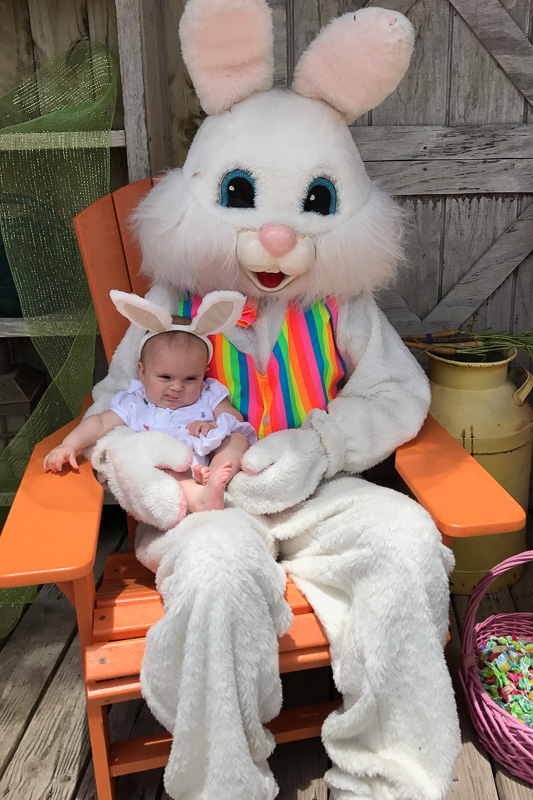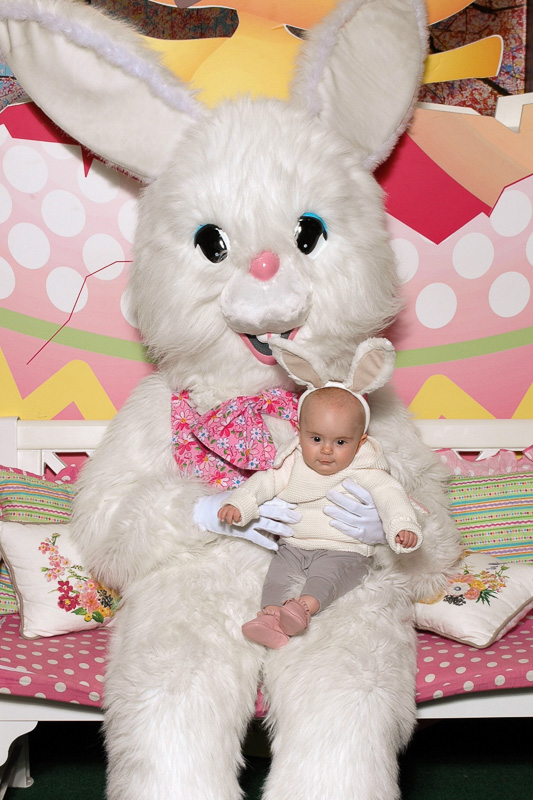 We took you to see not one, but two Easter bunnies. Truth be told, I think the Easter bunny can be a little scary, but you didn't mind at all. You liked to pull on his fur, and you allowed me to put bunny ears on you without pulling them off. If that isn't the definition of going with the flow, I don't know what is. Because of it, I got probably my favorite picture of you of all time with the most hilarious expression on your face. Your personality is showing more and more! I told one of your doctors that you were making this pouty face and I wondered if it meant your tummy hurt. He gave you a long look and then said, "Nope, that's just her personality, mom!" I laughed out loud, because the faces you are making are the ones in all of my pictures when I was little. I looked unimpressed often, and you may be getting that face from me, but it is cracking us up!
Last month, I shared a bit about your health problems, and while everyone was hoping (mainly your dada and I) that this month we'd have answers, we don't yet. The good news is the doctors are on top of it and making a plan. While you have more tests to figure out what's going on (you just had your blood drawn again this morning–it's the fourt time), you continue to be so easygoing through it all. The doctors and I laugh, because the minute they enter the room, you just stare at them waiting for them to get their work done, patiently and quietly. The phlebotomist this morning said you handle needles better than the majority of people that go in their offices. When I say you didn't cry, I mean not one tear. You didn't even flinch, you just let dada play with you and I sang you a Moana song. You are just that kind of kid–it's pretty amazing!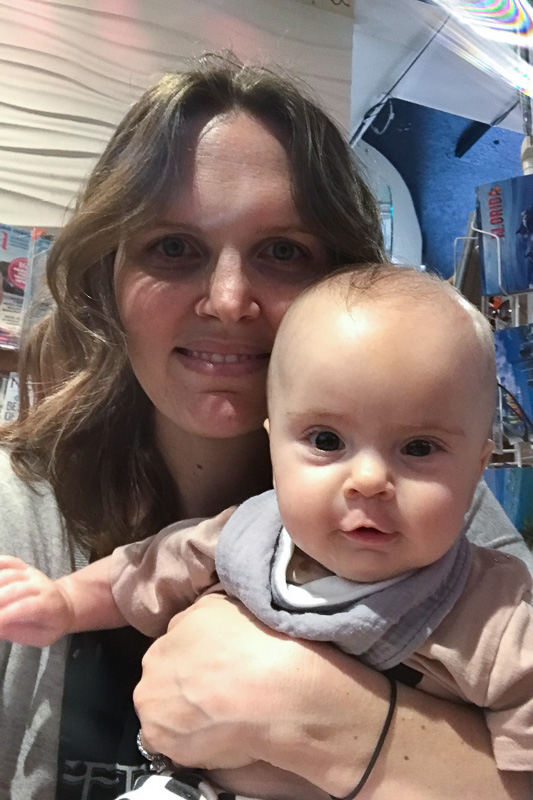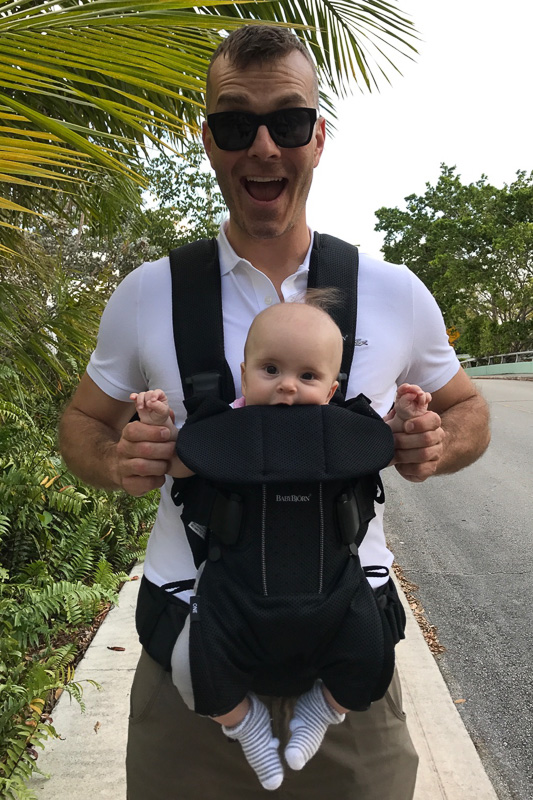 I tell your dada often that I feel really badly for everything you are going through–no parent wants this for their child. But man, you make this easier. You don't fuss too much about it all, and you go with the flow as we take you to different appointments with long waits. When you start to get upset, your favorite thing to do is have us hold you under your arms while you jump up and down. So we do a lot of that. You are going to have really strong legs after all the jumping you do. We know we have a great team of doctors all trying to figure out what's going on with you, and I promise you I am doing the very best I can to make you feel comfortable and happy while we go through this. I would do anything for this to be happening to me and not you, but I am hopeful that soon this will all be behind us.
Each day with you is made up of thousands of moments, and my heart feels so full of love. I adore seeing you with your dada–it's magical, and you love him so much. He makes you laugh and is always playing 80s music for you, which you don't seem to mind, though your favorite song is still from Moana–you could listen to Moana all day! Most of your hair has fallen out, and I actually only realized it when looking at older pictures. You had a head of hair, and now it's mostly gone! We keep waiting to see what color hair you'll end up with and what's happening with your eye color, but we don't know yet. You love sucking your thumb and fingers still, and while I used to think I didn't want a thumb-sucker, I think it's pretty cool you can self-soothe so easily. What I do know is that my life is forever changed and will never be the same. It's not that I didn't have a great life before with me and your dada, but I always knew I wanted kids and I can't begin to put into words what it feels like to be your mama. I am forever grateful and love you more than you'll ever know.
Love,
Mama
P.S. Please consider supporting our small, bag-loving team by clicking our links before shopping or checking out at your favorite online retailers like Amazon, Neiman Marcus, Nordstrom, or any of the listed partners on our shop page. We truly appreciate your support!