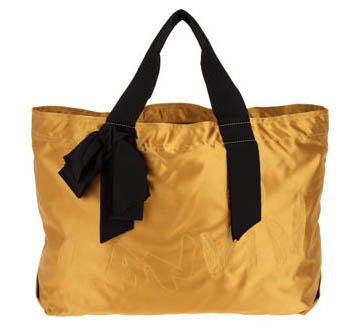 Why, oh why, can't the Lanvin Cabas Satin Logo Tote be leather? And not logo'd?
For some reason, lately, I've had kind of an obsession with mustard yellow. I really want a pair of mustard yellow tights, for reasons that are not entirely clear to me. But usually, when I get such a spontaneous lust for something, it's for good reason and something that I end up loving, if I end up buying it. Maybe mustard is one of those things.
But this tote? It's not. It might be, were it in leather. Then I would be drooling all over it and cursing its price tag (which would certainly be higher than for the satin version). If it were leather, I'd pair it with everything and carry it everywhere and everyone would ask me questions about it. In my head, at least, because I wouldn't be able to afford it. Not that I can afford the significantly-less-awesome satin version – I can't, and even if I could, I'd never pay that much for such a delicate bag in a light color. Buy through Barneys for $785.