Last night I was watching Ace of Cakes with Duff Goldman (typically I am a Cake Boss gal). Duff and his crew were prepping a cake for the Oprah show and they decided to make an enormous cherry pie piece with a scoop of ice cream on top, because the group is known for making cakes in the shapes of food. Just as much as Duff Goldman and Charm City Cakes are known for food shaped cakes, Judith Leiber is known for animal shaped crystal clutches.
From Judith Leiber we have seen a peacock, jaguar, camel and elephant. The latest animal clutch that I want to feature is the Judith Leiber Rabbit Clutch, one of the most wearable of the animal pieces I have seen from the brand.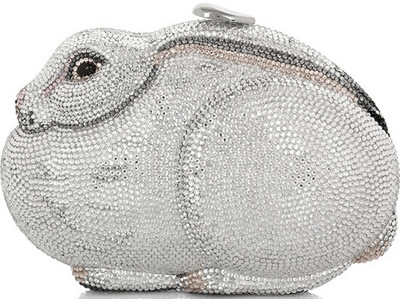 Why is this clutch the most wearable? Let's start off with the shape. The rabbit shape of this Leiber piece is much like an oval, and without a close view will look more like a crystal embellished evening bag that anything else. The color, silver and light pink, will work for various occasions. If you love Judith Leiber for her animal bags but never think you can pull it off, this is the option for you. There is an optional shoulder strap as well. Buy through NAP for $3,995.
What do you think of the Rabbit Clutch: A better animal shaped bag from Leiber or too plain?