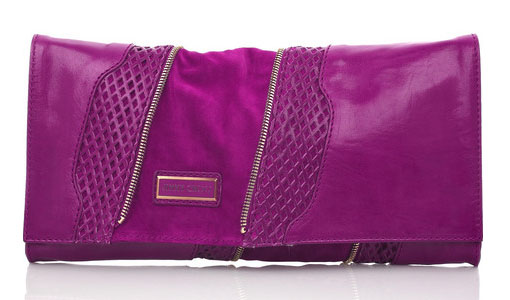 Prada, take note: if you insist on producing bags comprised mainly of perforated leather, then you might want to take some notes from Jimmy Choo on how you do it correctly.
We witnessed one of Prada's perforated failings last week, so now I think that it's only fair that we feature something like the Jimmy Choo Martha Perforated Clutch, which uses perforation tastefully. Well…maybe "tastefully" isn't the word. Maybe it would best be described as "stylishly."
The key to this clutch's success over the perforated Prada bag is that this one uses perforations artfully and as a single element, not the full show. The pink diamond-shaped cutouts remind me more of fishnet stalkings than basketball jerseys, and I much prefer to be aesthetically transported to the 80s than to a sporting event.
It also works better because the clutch is designed better as a whole – perforations that might not work otherwise are elevated by their surroundings. I love that the entire bag is a single, beautiful color but that it has elements done in three different textures. Instead of being one-note like the Prada bag, it's visually interesting and incredibly stylish (if you dig the 80s thing that's going on in fashion right now, which I happen to). Buy through Net-a-Porter for $1175.