So this week (and in particular, this weekend) are all about red, right? Well, according to the people that have a vested interest in selling you (or, perhaps more accurately, your significant other) lots and lots of Valentine's Day swag, anyway. We'll have more on V-Day throughout the week, but for a moment, I'd like to celebrate something that's red that has blissfully little to do with anything other than good taste: the Valentino Premier Bow Hobo.
Everyone that reads this blog has probably picked up on the fact that I have a strong personal bias both the color red and almost anything made by the fine folks at Valentino, so of course I can't help but fall for this bag.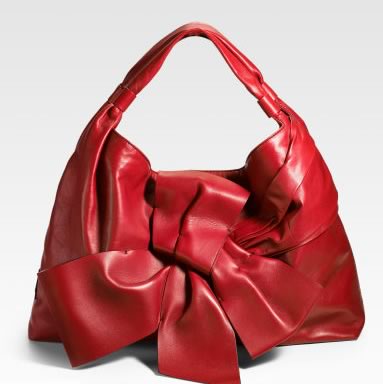 For those that don't follow fashion closely, red is a Valentino tradition (which is putting it very, very lightly). Under the creative genius of the company's namesake, the color became a metaphor for the brand's vision and an omnipresent staple in the brand's clothes, accessories and especially their evening wear.
So it shouldn't surprise us that, despite the retirement of the brand's founder, Valentino is still one of the few designers that manages to do a red handbag and do it right. That's because the company will accept nothing less than the perfect shade of red for any of its products, and that's exactly what they managed to get out of this leather.
I've already explained my love for this bag's design back when the shape first came out, so I won't rehash those feelings, which are very much still intact. I will say, however, that the bag's deliberative pleating is much more handsomely displayed in Valentino's traditional red. It doesn't even need to be Valentine's day to appreciate that – or should I say Valentino's Day? Buy through Saks for $1895.