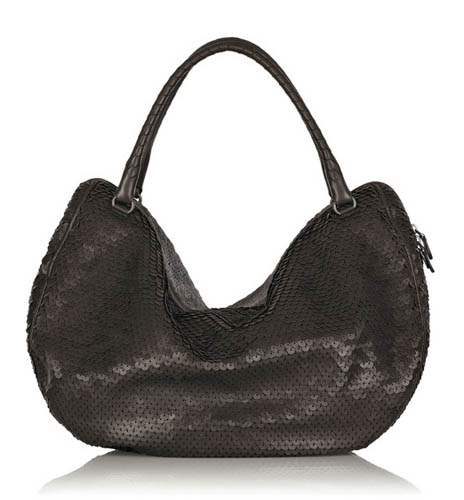 Leave it to Bottega Veneta to do something so intricate and yet still keep their aesthetic so classic and streamlined. They're playing the sequins trend perfectly with the Bottega Veneta Ebano Paillette Hobo.
And the reason that they're doing such a good job is that this bag really isn't covered in sequins at all. Well, technically, I guess they're sequins. But they're not the cheapy aluminum foil type – they're made out of Bottega's signature butter-soft leather. Isn't that clever?
The motif is executed perfectly, which is the only reason that it works. It could have easily looked clunky and silly, but the sequins are so small and cut so thin that they look exactly like real thing, except a thousand times as luxurious and restrained. From a distance it's a chic textured bag, and up close it's a triumph of well-edited design. Buy through Net-a-Porter for $4200.