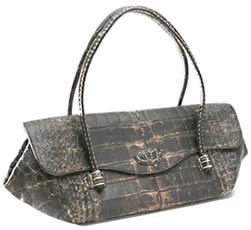 Growing up in Florida I have seen my fare share of alligators. They even ate my next door neighbors dog, "Fluffy". Kind of funny, not the death of a dog part, but the fact that a gator ate a dog named "Fluffy". Anyhow, I never understood the big deal with gator or croc skin, only because whenever I saw a gator it was covered in algae and always so damned scary. But in the fashion world, croc and gator ski is a coveted good.
This is where Tod's Genuine Crocodile Handbag makes it's mark. Now there are some things I like about the bag, and some things that I do not like so much about the bag. First of all I love the shape. This bag is a functional satchel with inside zip closure. I also love the outside magnetic closure and the Tod's logo on front. I bet you realize I am so skipping over the major part. But I just can not make myself like how it looks. It is true the bag is made of 100% genuine crocodile leather, but the look just isn't me. What I can appreciate about it is the impeccable craftsmanship, but not the material so much itself. I enjoy croc skin on bags, but not the entire bag. Also too, I really believe I, Bloggin' Queen Megs, could go to the outback,
wrestle and kill a croc, and make this bag for you for less than the *discounted* price of $2,999.99 from the original $8,500 at SmartBargains.