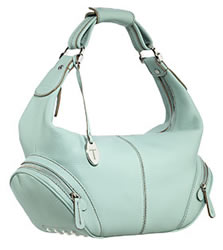 It is no secret that we love de luxe, we love the glam, we love the pomptuous, fancy and expensive here at our precious blog. Although many of the featured handbags are out of many people's league and least of you loyal readers would actually really ever pay, not to mention being able to afford many of our listed bags, it is always a real pleasure to present just those bags to you. I like to draw the parallels to high-end sports cars. Why is it that popular mainstream media channels love to feature vehicles that only selected few souls will ever be able to drive? Because it attracts, it makes one dream about the seemingly unreachable, it may even motivate some to shoot for something extraordinary. If you consider yourself one of those just mentioned and you happen to love bags as much as we do, I got just the right bag to fuel your eager compassion.
Following up on my previous post on Tod's Venghe Pochette, I wanted to take the time to point out another extraordinary bag that stuck out among the many on our trip to Paris. The Tod's Charlotte Piccola was a shoulder bag that almost went unnoticed. Hidden in a corner near the store's entrance, this treasure was hanging innocently, and nearly fell subject to our ignorance. However, fortunately we did spot out this futuristic piece of nobility.
What a fine bag that is. Sumptuous textured leather exterior infused with an elegant saddle-style topstitching. 13″ x 7″ x 6″ inches of raging elegance and delicate sportiness. The hemispherical exterior zip pockets on each side add a very unique touch that insure that the hangbag will never turn into an antiquity on you. Available in either acqua alce or plain black alce for a hefty $925.00 at our beloved ELuxury online store.