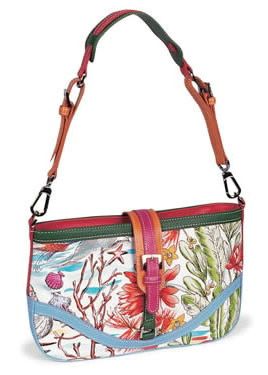 Longchamp de Paris appear to be very creative this season. Flippin' through the German Vogue, an ad with a redhead lady and a gorgeous shoulder bag caught my eye. Amazing when an advertizement actually does it job well, isn't it? I hit their site and discovered their new Ile aux Trésors line for this spring. The pictured zip bag is very unique in the sense that no bag produced will exactly match another. The final canvas depends fully on the random cut of the fabric. Nifty! No word on the price tag on the pretty bag, I will try and figure it out for you today.
Following the footsteps of innovation, Longchamp invites the masses to their version of a BYOB party. BYOB in this case does not denote the unavoidable standard beer binge at a cheap-ass college frat party, but Build Your Own Bag. While this certainly isn't a groundbreaking innovation, I do like the way the concept is executed in their E-Boutique in 4 easy steps.
You enter the store, select the country of delivery. First step in creating your perfect Le Pliage bag requires you to pick a size. A purse, a clutch and four bag sizes are offered as choices. All bags have a nylon canvas and are enhanced with russian leather. Secondly, you choose whether you want a handbag (4″) or a shoulder bag with longer 10″ straps. In the third step, you pick the colors for both the main canvas and center stripe colors, as well as pick between three available metal accessories finishing. In the last step, you can choose between more options, including a custom embroidery, your embossed initials on the flap and gift wrapping. The prices range from $30-some bucks up to $130 for the largest bag size.
If you want to make a perfect gift for a special someone, or treat yourself — you will hardly get past this fantastic opportunity. Play around with the options at the Longchamp E-Boutique.