Frye makes some of the best leather bags and shoes out there. Here are my favorites right now…
In collaboration with Frye.
Over the past decade, I've spent a lot of time thinking about bags, and because of that, I know what I want, what works for me, and what's good. Frye has long been a go-to brand for shoes, but it's their bags that intrigue me, and after sharing some of my favorite bags and shoes from Frye for spring, I'm back to share the brand's bags that have my attention for fall.
Frye knows how to work leather—the brand has been in the leather business since 1863—so it's no surprise that the leather is what lures me in most. Each bag I own serves a purpose and some are trendy pieces I won't use much, but especially as I've gotten older and my life has changed, I realize that the bag I carry needs to work well. I want it to hold my belongings while also holding up to repeated use, and it needs to look good while doing it. I have plenty of sleek, refined bags for when I'm dressed up a bit, but my daily style is casual, and every Frye bag I love fits in with my aesthetic perfectly.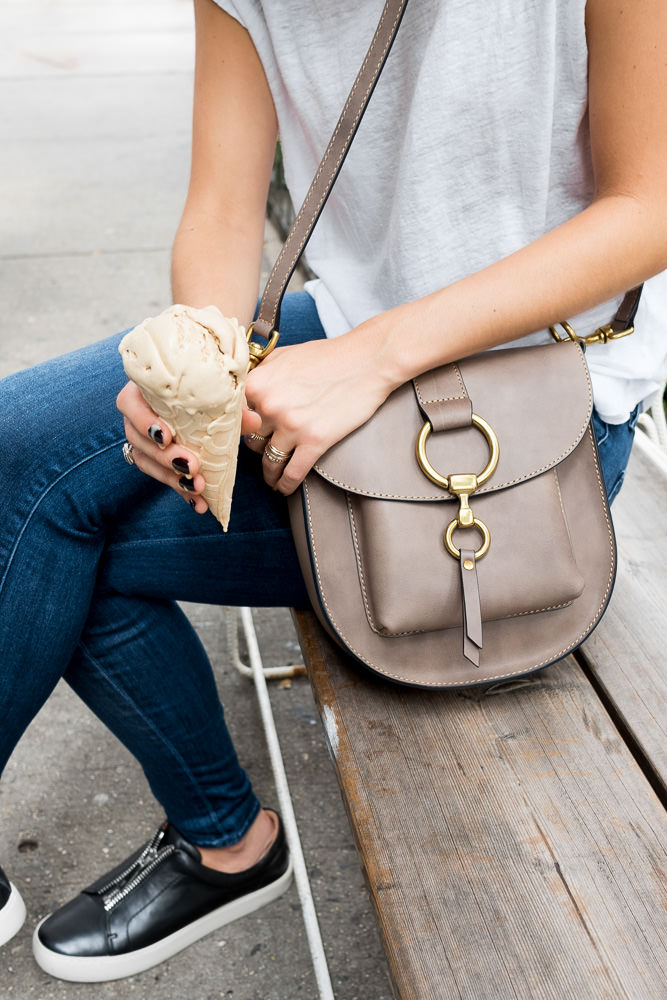 The Frye Ilana Saddle is still a standout from the brand, and it's easy to see why. I fell in love with this bag the first time I saw it, and I still love it. The leather is thick and durable, the color holds to the leather so well, and the style is asking for you to make this your go-to bag. This is a bag that you can carry all day long and it will only get better with time.
The bag is handcrafted from smooth, vegetable-tanned Italian leather, so it will show the different highs and lows of the color from the tanning process. The interior is lined in suede, which is always a nice touch, and I've always liked the harness hardware. This bag is offered in new colors for fall, and I want both. (Actually, I couldn't even pick if I had to, both the Cognac and Grey are ideal for anyone's fall wardrobe.) There's an easy-to-access front pouch pocket that fits an iPhone+, which is a nice touch, and the shoulder strap is adjustable, so you can wear it across your body or over your shoulder. Dimensions are 9 3/4″ H x 8″ W, with a 21 1/2″ strap drop. This is a classic bag, an everyday bag, and if someone came to me looking for a really good bag under $400, I'd send them directly to this one.
We also had a chance to see the Frye Ilana Harness Backpack, which, if you love the saddle bag above and are a fan of the backpack as your everyday bag trend, this bag is for you. You can see from the photos how great the leather is—in fact, when I look at these pictures, I feel like I could reach into the computer and pick the bag up and take it with me. I never thought of myself as a backpack girl now that I'm not in school, but I see so many moms with backpacks and realize how easy it is to carry a backpack when you have kids. This backpack has all the aesthetic touches of the Ilana Saddle in a backpack version. The two shoulder straps are adjustable, and there's a top carry handle, drawstring closure, and suede interior lining. The interior fits a 13″ computer but would fit an iPad or MacBook Air with ease.
Continuing on my love for all things Frye Ilana, I found the Frye Ilana Harness Mini Saddle to be a great, compact bag if you're on the hunt. This bag is small but fits more than you'd think, with an iPhone (not plus) fitting in the pouch pocket right under the flap, and the main compartment can carry a small wallet, sunglasses, keys, and a few makeup essentials. The Mini Saddle has a long, adjustable shoulder strap and is perfect for the girl on the go.
Outside of the Ilana family, Frye offers many more bags. The one that I loved most was the Frye Melissa Whipstitch Mini Saddle. This is a bag that showcases amazing leather—even from the photos, I just want to touch it. It has a bit of a 70s vibe, and the leather used is actually antique Italian leather. I love everything about this bag, from the size, to the whipstitch trim, to the polished gold hardware. The cognac color is my favorite (I think—I'm having a hard time deciding), but it looks like a leather couch that you could just melt into. I love a shoulder strap that is thicker on a smaller-bodied bag, it is a design detail that gives the bag more substance, and this bag has that.
Of course we had to try some shoes, because Frye has been in the shoe business forever and some of my best leather boots are from the line. Since I spend more time in Florida, I don't wear leather boots as much as I do a great sneaker, and the Frye Lena Zip Low Sneaker is comfortable and cool. It's a shoe I would easily wear every day and I think it pulls together an outfit really well if you want a step up from tennis shoes; check them out here. It's not yet fall weather in most places, but a Poncho is effortlessly stylish and warm, and I love that the Frye Roper Poncho is very wearable and cozy. (We tried it, it feels like you're wrapped in a blanket!) If I'm ever cool enough to wear a hat (I'm not, but I try to be), it would be one like the Frye Roper Hat. There are three colors and I really do love this hat—especially paired with the poncho!
Shop all latest arrivals at thefryecompany.com.