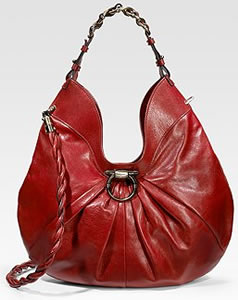 Salvatore Ferragamo is one of those brands that flies under the radar for so many of us. But it shouldn't. Time and time again I find Ferragamo bringing us the most delectable bags. They are simple, understated, and elegant but there is always a wow factor. I will always reference the Ferragamo Carlotta, an oversized alligator bag that exuded brilliance with its exotic skin and shape.
Next up on our Ferragamo love list, the Salvatore Ferragamo Gathered Leather Hobo. From the moment I laid eyes on this bag I adored it. The red leather is showcased by gentle pleating. The chain link leather handle has a finely crafted twisted strap, which is the wow factor on this bag. This bag is great in red, but Ferragamo also has a black version which Eva Mendes was spotted carrying in Italy.
Every handbag collection needs a vivacious red bag and I find myself wanting to add this piece to my collection. Quality and craftsmanship is superb on Ferragamo bags. The inside features a zipped and two open pockets. Overall measurements are 16½"W X 15″H X 3½"D. Buy through Saks for $1,790.