The weather is getting much nicer and I am excited to wander the city and enjoy time outdoors. I've learned to edit the things I carry in my handbag so that I can choose a smaller bag that won't weigh me down for long walks. I fell in love with a version of this Gancini bag when I found it for the best traditional wedding day bags. After a little more searching, I found Ferragamo made this bag in a compact crossbody style. There began my obsession.
The Salvatore Ferragamo Gancini Crossbody Bag is made for your busy lifestyle and can be carried in a variety of ways, including crossbody, on the shoulder, or as a clutch.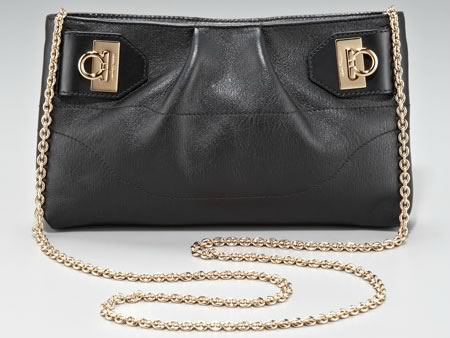 While there is a vitello ceylon (tan) version, the black is simply sleek. The chain crossbody strap is removable, but when in use, it has a 23″ drop – plenty long for crossbody carry. I've always been a fan of the elegant Gancini tabs and although they are not in-your-face, they are easily recognizable.
Salvatore Ferragamo never lets me down, the brand knows its roots and is never strays from its aesthetic. Simplicity is not a bad thing, because when designed properly, in simplicity lies beauty. The dimensions are small (5 1/2″H x 9 1/2″W x 1 1/2″D), but this is a great everyday bag and the price is incredible for a premiere designer handbag. Buy via Neiman Marcus for $595.