Many of my choices for our Want it Wednesday category are both exotic and rather pricey. That is part of the lust factor – we all love something and yearn for it a little more the more it is out of reach. And as much as I love a holy grail dream list, I prefer floating on clouds of reality.
Colorblocking is a huge trend for spring and will continue to be prevalent into next fall. With everyone talking about colorblocking, I was thrilled to see many design houses giving us handbag options that fit the trend ever so perfectly. Fendi is not always on my radar, but their Spring 2011 collection caught my attention early on.
And this Wednesday I am wanting to add the Fendi Silvana Flap Top Bag to my spring wardrobe.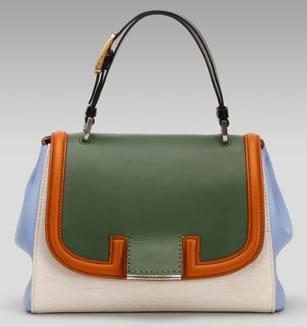 The design actually comes from the Fendi archives and was inspired by late Italian screen star Silvana Mangano. The coloblocking is bold yet subtle. The beige canvas is offset with blue, green, and orange leather. Each color is on the neutral side and gives a soft feel to the overall palette.
Gone are the oversized cumbersome shapes we became accustomed to seeing and in are lady-like structured bags. This Fendi bag fits the new mold ideally. There is also an adjustable shoulder strap and flap top with a magnetic snap closure. I am wanting and loving this bag today! Pre-order via Neiman Marcus for $1,870.