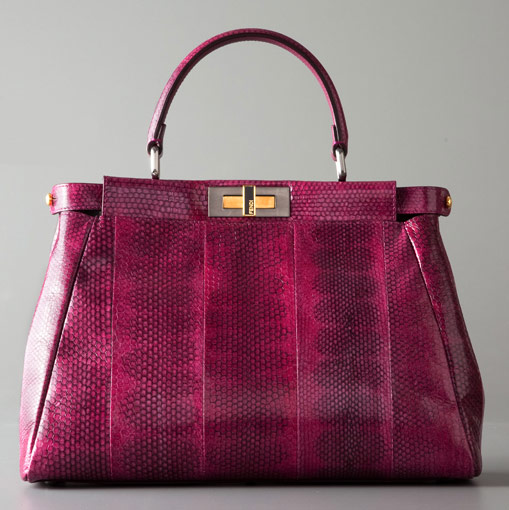 The Fendi Peekaboo Tote is getting to that point in its design life cycle where people start impatiently tapping their feet, awaiting the next thing from the brand. Spring 2011 holds a few options, but until those come to retail, this pink iteration of the popular Peekaboo might just be enough to hold your attention. I just have one question, though – what is this bag actually made of?
Bergdorf Goodman's description lists the bag's materials as goat and calf skin, but makes no mention of embossing of any sort. When I first looked at the bag, I assumed that I was looking at watersnake or lizard of some sort, since those two materials are generally the sort of thing that create the texture you see above. And then there's the small matter of price: this Peekaboo costs $700 more than the goat and calf Peekaboo of the same size at Saks, which has no embossing and actually appears to be made of the aforementioned leathers. Bergdorf also stipulates that this bag cannot be shipped to Canada, although Fendi's regular leather bags have no such stipulation that I can find on the company's website.
So, I see two distinct possibilities: either Bergdorf's has the material identifications wrong, or Fendi would like its customers to pay $700 for some embossing and a bright color. For the sake of my sanity and the luxury business as a whole, I hope it's the former. Buy through Bergdorf Goodman for $3250.