Perhaps I'm merely willing to indulge Fendi's recent logo-bag silliness because of the beautiful runway collections the brand has given us over the past few seasons, but first I liked Fendi's slightly bizarre horse-head tote, and now I find myself enjoying the flowered-but-not-frilly Fendi Roll Bag Tote.
I think the more likely explanation is that these recent bags show a brand that's not taking itself too seriously, which is always worthy of applause. The double-dipped logo patterns of this tote could easily read gaudy and dated, but the somewhat delicate way in which they're combined creates an oddly pleasant visual dissonance for which I'm willing to set aside my general distaste for logo bags.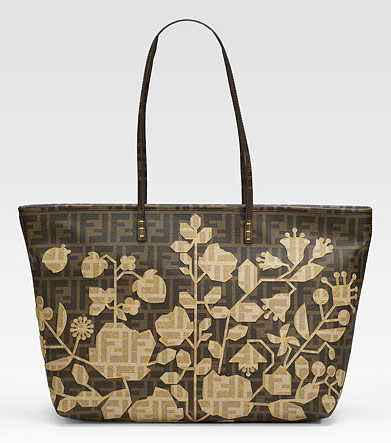 For me, the thing that makes this tote work is the fact that the lighter and darker patterns don't line up. If they had, it would just have looked like one sheet of pattern was dyed with a flower pattern; instead, the mismatched Fs give you a better impression of the topstitched fabric flowers (the yellow thread even adds some detail to the flowers, but you have to zoom in to see it), which looks far more interesting than just a regular pattern. In fact, the only think I don't like about this bag is the price – for a simple fabric tote, no matter how whimsical, the price should be under $1000. Buy through Saks for $1010.