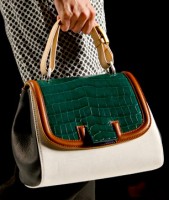 Can I get a standing ovation for Fendi? It wasn't all that many seasons ago that the brand's accessories department seemed to be in a bit of a post-Spy Bag aesthetic flux. There were too many logos, too many underdeveloped ideas and too little editing. From the looks of it, the brand has come out of its slump in fine form with Fendi Spring 2011, the brand's third brilliant major accessories collection in a row. Once is a fluke, twice is a coincidence but three times is a trend – get on the Fendi bus.
For spring, Fendi's runway accessories are all about incorporating color in a classic way. No bag was graced with fewer than two different shades, and almost all of them incorporated the various colors on leathers of different textures. What would have been an unwieldy combination of elements in most designers' hands was deftly developed by Fendi's accessories team, and the shapes were kept clean and traditional in order to offset the bold materials. There is not a bag in this collection that I wouldn't be proud to add to my closet, and multicolored accessories encourage an inventive, modern way of dressing that more and more women are embracing.
Photos via Style.com.