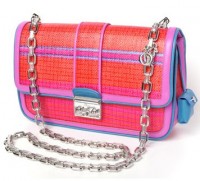 While none of us know for certain where Dior is headed, if the snaps that have come out of the Dior Resort 2012 handbags are any indication, accessories addicts don't have much to worry about. During recent years, John Galliano's Dior gave us season after season of mediocre accessories, never quite recreating the success that the brand had with the Saddle Bag years ago. I don't see the Next Saddle Bag in this array, but I do see some very fun designs.
The Lady Dior bag with clear beads will remind a lot of people of Prada's stellar Spring 2010 accessories collection, and there are certainly worse steps in which to follow while the brand finds its new direction. The rest of what we see so far is solid, functional and colorful in a way that will likely make it move off store shelves very quickly; the bags feel very of-the-moment, which is something that's been largely missing from Dior accessories for some time. Several more pictures after the jump.
Images via Women's Wear Daily.