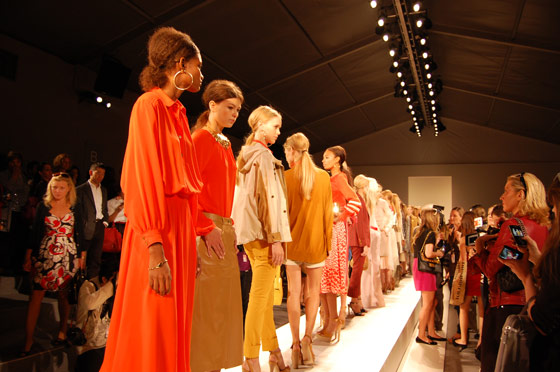 Since we've been noting a clear move from monogrammed cute to sleek and chic in Tory's shoes and bags, it's no surprise that the Spring 2011 presentation was nothing short of gorgeous. It also confirmed that the 70s really are going to be in style next spring – I know, I know, Marc Jacobs confirmed it too but Tory Burch has the power of mass appeal. Plus, her 70s-inspired pieces were paired with other items that gave them a decidedly modern twist. For example, bell-bottom pants were paired with things like a fine-knit sweater that reminded of Peruvian striped styles or just a simple long-sleeved tee. The shoes were pretty high, yes – giant-heeled espadrilles or high wedges – but there were easy sandals as well.
Of course, the bags moved even more into the realm of minimalism. All of them had but a tiny logo, instead allowing the bright color and shape of the leather to stand out. And the colors were perfectly modern while still preppy: think classic white, orange, bright jade green, and softly vibrant yellow. A striped and woven tote bag fit in with the more globally-inspired pieces, like the Peruvian-style sweater mentioned earlier, while a teeny straw and leather basket purse was just plain cute.
Not only that, but Tory figured out how to make calf-length skirts flattering and wearable. In one of my favorite outfits (in case you're wondering, yes, I did pick my top five favorite outfits, to be exact) the stunning model wore a calf-length white chiffon skirt spotted in orange with a loose orange top. The outfit was cinched with a glam gold belt with corset-style ties; slim gold hoop earrings finished off the outfit.
On the subject of wearability, the models actually looked happy and comfortable, despite the fact that they had to stand for quite awhile in massively tall platforms and heels. Perhaps it's because they talked and laughed and joked with one another throughout the presentation, but whatever it was, their pep made me adore the clothes that much more.