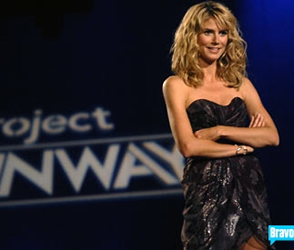 Bad Mommy is BA-ACK! (Did I do the BA-ACK thing recently? I feel like I did. It all runs together). Unfortunately, she's just the extra judge, not a fixture on the entire episode, which is unfortunate since she would have been a FANTASTIC critic during Tim's rounds. On this week's Project Runway, Laura Bennett returns as our designers make outfits out of car parts, and I'm not even joking. On a pop culture blog that I read, a commenter joked after last week's episode that the only thing left for our designers was car parts, and as it turns out, he or she was right. There's nothing witty to say about making clothes out of car parts. The joke is already there. So talk amongst yourselves.
"I want to just do something PRETTY!" Stella said that, and then her face melted off, because her body is not used to that kind of thought. We also got to see a picture of Stella's boyfriend! I'm glad that they're giving her a bit of dimension beyond her leatha, because I find her to be a compelling character. Car parts (metal, leatha, etc.) should be materials that feed her aesthetic, but even so, she went a bit outside of her normal look – in fact, I adored the idea of her pencil skirt, even though I think she had a hard time marrying the two aesthetics. She may be in trouble this week.
Keith continued his STUPID WHINING, and this time the other designers noticed. Apparently he's offended by the fact that he has to make outfits that the judges like, indicating to me that he has never, not once, watched Project Runway before auditioning. And you know what that is? That's his own stupid, whiney fault. Please, PLEASE let him go home this time. He flipped out on his model for, uh, sitting. Possibly he should have made an outfit that actually functions as clothing? Isn't that KIND OF THE POINT? And then he blames the judges for shaming him into making a bad outfit. He was easily one of the worst this week, so I may get my wish.
The fact is, though, almost none of our designers created something unbearably heinous. I think this is the best we've seen from them all season, easily.
Again, Korto is my favorite this week. Her swingy, mod woven seatbelt coat was gorgeous, elegant, and completely chic – something I would covet if I saw it for sale online. Without close examination, I wouldn't have guessed it was made of seatbelts at all, and to me, that's a job very well done.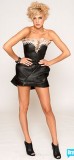 I love Leanne's attention to detail on her bodice (really, on the entire dress), and it's an incredibly unique silhouette that, despite its emphasis on the hip, did not make her model appear larger than she actually was. That's a difficult line to walk, and she did it beautifully.
Jerell's outfit looked like it fit his model like a GLOVE, the tailoring was impeccable, and he seemed to use at least a few materials that were non-fabric, a feat for which I genuinely applaud him.
I felt like all three of those outfits had a good chance of winning, and the judges picked Leanne this week, who I think deserved a win. She's made strong clothes for almost every challenge that can tend to go unnoticed, and I don't want her to get discouraged and start slacking. Although I loved Korto's, as I almost always do, this is a decision that I can get behind.

So who DID suck? Well, like I mentioned before, Keith and Stella both kinda did, and they're in the bottom two. I get my wish this week, however, and KEITH GOES PACKING! I emitted an audible "YESSSS!!!" when this occurred, and I don't think I've ever been happier to see someone auf'd. And then he cried like a baby and made it uncomfortable for everyone, all the more reason to get him off of my TV.
Ultimately, I don't think that this episode used Laura's fill-in for Nina Garcia to its best advantage, which was kind of disappointing, but the clothes more than made up for it. Designers are starting to pull away from the pack, and I thin Korto and Leanne will both make it to the final 3. I don't know who else will be with them, but I happily anticipate both of their collections.
Next week, we get Diane von Furstenberg, and hopefully some fabulous patterns, as are her trademark. Hmmm, patterns…maybe they'll bring Uli back as well? Probably not, but a girl can dream, right?
Photos through Bravotv.com