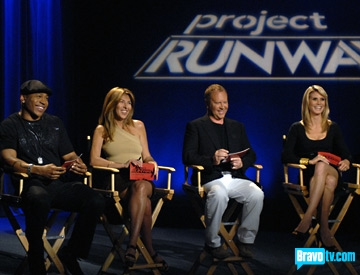 Yes, YES, they switch models this episode! I love it when they switch models! It's so much drama! I can't remember a voluntarily switch since the "M-Fing WALKOFF," as Daniel V. called it, a few season back. But then it didn't matter that they switched models this week, because the extra drama also comes from the fact that they're designing for the OTHER DESIGNERS! Is this an original idea? Have they not done this yet? I don't think they have? Am I wrong? Has this really not been attempted, like, season ago? Why not? Were they really waiting for when the Weinstein brothers would sell the show out from under them or something? And what is this I hear about musical genres?
This whole musical thing is kind of unnecessary in the same way that the astrological stuff was kind of unnecessary a few episodes back, but, at the same time, way more awesome. And here's why:
Kenley has to make a hip-hop outfit for Leanne. Can you think of any two people, off the top of your head, that know less about hip-hop culture than Kenley and Leanne probably do? You can't, because that's a trick question – two people do not exist on this earth that know less about it than they do. Even the Amish beat them.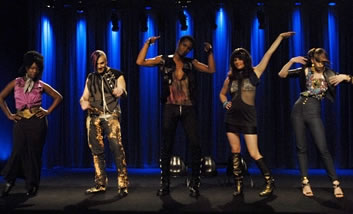 And then Leanne is making a country outfit for Korto, which…heh. It seems like they sat around and thought about which designers would be most ridiculous making and wearing which genres, and then assigned them accordingly. And I love that, because I embrace the ridiculousness. I also love that because it means some of them have to design for men, which if I remember previous season correctly, basically no one on PR even knows how to make a pair of men's pants. Although the two dudes left are Jerell and Suede, so I might not worry about keeping things butch, if I were them.
Jerell gets to make a pop outfit for Kenley, whose butt is about ready to sneak out the bottom of that thing and say hello to all of us. Despite that, Jerell's was really successful – Kenley looked like a pop star all the way, I would totally believe the outfit that he made as a tour costume for an old-skool Britney or Cristina show.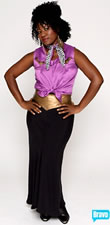 Speaking of butts – Korto's got a lot of junk in the trunk, and I didn't think that her outfit flattered her very well. I disagreed with Leanne's approach on the 'country' theme – she tried to go Grand Ole Opry, and I would have gone more down-market with the whole thing. Maybe a cute, really well-fitted, distressed plaid button-down, a really awesome pair of jeans, something like that? Korto wears a lot of dresses, so it would have been really interesting to see her in something more structured and less girly. There's a lot can be done to the details of those types of things so that they say country while still being stylish, but Leanne is from Oregon, so the whole country thing probably confused her.
Speaking of Korto, she designed for Suede, and actually did a bang-up job. This is surprising for a couple of reasons – designing for men normally proves much more challenging to the PRers than designing for women, and Suede appears to have a body akin to an unbaked loaf of bread in the outfits he normally wears. Somehow, in a fit of genius, Korto was able to make Suede look masculine and even, maybe, a tiny bit authentic and angry in his punk outfit. The cut of the shirt and jeans was very flattering to his body and the pieces together were totally punk but, separately, would totally be sold at a Diesel store. As such, she was our winner this week, and deservedly so (although Jerell's was, admittedly, kinda fierce).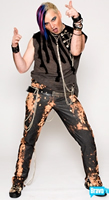 And then, Suede. Suede is full of suck, he really is. His outfit today wasn't BAD, per se, but…it just looked like Jerell. His theme was rock, which he could have done SO many things with, but it looked like Jerell showed up in his normal clothes – a tank top that showed his chest, a leather patchwork vest, and tight pants. I hope they let Jerell keep it, because I bet he'd wear it all the time. It was even in his normal color palette!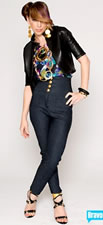 And now for the TRUE suck of the evening, which I mentioned earlier – Kenley's hip-hop outfit for Leanne, which was made even more hilarious by the fact the LL Cool J, a rap legend, was this week's guest judge. Leanne is pretty thin and proportionate, it should be easy to tailor clothes for her, but Kenley managed to make a pair of high-waisted, crotch-obliterating skinny-but-still-mommy jeans that, to paraphrase the judges, had to be one of the least flatter pairs of pants to ever grace the planet. She made some sort of printed top and a weird, tiny leather jacket that, as far as I could tell, was not connected to hip-hop in any way at all. Kenley is guilty of the exact thing that she ragged on Suede for during the last episode – being unable to interpret her style into different things. For the love of God, Kenley couldn't even interpret herself a pair of halfway decent pants.
And then something happened that had to happen – Kenley didn't go home and Suede did. I agree with this on principle because, despite the fact that Kenley is outrageously annoying and dissed Tim Gunn (I will KILL THAT HEIFER. Such things are NOT tolerated in the Mull household), Suede needed to GO. Suede should have gone weeks ago. Kenley's outfit was easily worse this week, but Suede had been lucky one too many times, and not even someone making an outfit that was genuinely worse than what he made could save him this week. He went out as a class act, though, and for that, I deduct some suck points.
And then I give those suck points directly to Kenley, because she continued to ask Jerell and Korto, the only black people in the room, whether or not everything she did was hip-hop. If I had been either of then, I would have spent all of my sewing time endeavoring to convince her that pegged jeans are hip-hop, just for funsies.
So we're down to 4 – Leanne, Korto, Jerell, and Kenley. If anything is right in this world, Kenley will go home next week and the final 3 will be as it should.
So what do we have to expect next week? Well, from what little they gave us, they go in a van somewhere and then everyone cries. Anyone care to take a guess? Photos courtesy of Bravo TV