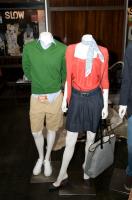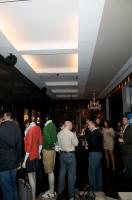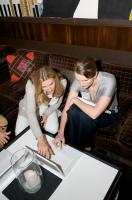 Vlad and I were invited to a Martin + Osa Fashion Event on behalf of Glam, along with our new friends from Allie is Wired and Stiletto Jungle. The event was held on April 23 at the fabulous Thom Bar at the Thompson Hotel in New York City. There was no better way to start the night then being greeted by star from America's Next Top Model Cycle 4 Keenyah Hill. Actually, we ran into her and I was certain I knew her. Not as a a star on a TV show, but as a friend. So Vlad and Allie stood by, watching me exclaiming that I knew her from somewhere and she was indeed an old friend. But she laughed it off and took a picture with me to boot! The party was hosted by Martin + Osa exclusively for Glam bloggers, which was such a treat.
Vlad and I had no clue what to expect, but the party was really posh. We enjoyed hors d'oeuvres and drinks while mingling with people from Glam, bloggers in the Glam network, and the folks from Martin + Osa. The party was to showcase the new website design for Martin + Osa as well as showcase their spring line. We left with goody bags which had a great smelling candle, a few booklets, along with a cashmere sweater. I must admit that I have lived in my Martin + Osa cashmere sweater since the event! The sweater was my travel companion throughout Spain. It is light but warm and the perfect length. I have it in both Revival Red and Luna Grey, which are both perfect to wear on many occasions. But the color I was obsessing over was this perfect yellow, which we saw the following night when we were invited to the Martin + Osa Fashion Show for Spring.
The event held for the Glam bloggers was a huge success. Not only did we get to meet quite a few of our fellow publishers, but we also met the folks that I speak with at Glam on a daily basis and the executives behind Martin + Osa. The brand was developed by American Eagle Outfitters. The overall however, feel is different. The pieces are great layering pieces, the price point is ideal for what you get, and the overall vibe is more mature than American Eagle.
Actually, the some of the great women behind Martin + Osa that we met were wearing the pieces and it looked as if they popped out of an upscale magazine ad. The idea behind the website is genius, offering an interactive layer it section where you can dress yourself up as you wish and then check out with all the items. Our other favorite part of the website is the shop by outfit section. The models move around, switch position, and really make the site a completely fun and interactive adventure! Vlad and I sat in the couches at Thom Bar reveling at this feature. We loved the party, and after meeting the Vice President and President of Martin + Osa we were invited to their Fashion Show the next day, which was also showing the spring line.

Cashmere + Silk Cardigan in Fargo Pink $128, Drawstring Halter Top in Brick Red $34, and Linen-Cotton Trouser in Crystal White $78
The Fashion Show was not like one I have ever been to. We went to the west side of Manhattan right on the water and up into a large penthouse which looked over the Hudson River. The show was a casual set up, having the models interact with one another on display. They wore the designs and looked so incredibly amazing that Vlad and I could not stop staring! Along with Martin + Osa being showcased, American Eagle and Aerie by American Eagle were on display. The models look was preppy cool and the interactive set up was totally memorable. Vlad snapped candids and then the models began to pose for us too. We left with another goodie bag, including another cashmere cardigan for me, an American Eagle Tank top, and a pair of boy shorts from Aerie. Both events really opened my eyes. I have been stuck buying cashmere sweaters for $500 when I could get something that looks incredibly chic, can be used daily, and costs $128. Vlad and I were so happy to be a part of the party hosted for Glam and attend the Fashion Show the next day. Now it is time we spread the word and let you all in on a new little secret, which is Martin + Osa is incredibly comfortable, stylish, and affordable! Make sure you check their site out, as right now they are offering 20% off all purchases over $100. Thanks again to Glam for having us be a part of this!
P.S. Please consider supporting our small, bag-loving team by clicking our links before shopping or checking out at your favorite online retailers like Amazon, Neiman Marcus, Nordstrom, or any of the listed partners on our shop page. We truly appreciate your support!