Alexander Wang is fashion's ultimate it-boy these days. He's the king of downtown cool and has played a huge part in the tough leather and shiny studs trends that we're seeing on anything and everyone these days. Whether or not you like him, he has probably influenced what you're going to be wearing for fall.
He showed his Spring 2010 collection over the weekend at New York Fashion Week, and I can't help but think that with all the hype, he couldn't have produced anything that would have wowed anyone. Not genuinely, anyway – so much is expected from him based on his last presentation that he probably would have had to find Jimmy Hoffa in the front row for anyone to be shocked.
But what he gave us was kind of cool anyway. His main influence seems to have been something with which I'm quite familiar – football. Wang took the term "American sportswear" quite literally and created a collection full of deconstructed prepster looks and not-so-subtle nods to athleticism. There were dresses and tops that were constructed partly out of tighty-whitey underwear, deflated football handbags, and even a letterman's jacket or two.
This collection seemed to lack a bit of the intense focus and clear perspective of Wang's previous collection, but there were flashes of greatness. A divine caramel leather jacket worn by Angela Lindvall was among my favorites, and I bet that there are hipsters in Brooklyn right now trying to figure out how to fashion a shirt like the one Magdalena Frackowiak wore out of men's underwear.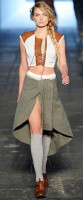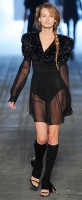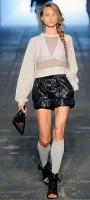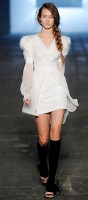 Pictures via Style.com