Balenciaga bags to be a steal, since most of their motorcycle styles are still priced under $1500.
Great googly moogly, people. I sit here every day and talk about $2500 handbags like they're the most normal thing in the world, so most sane people would consider me somewhat desensitized to luxury prices. And they'd probably be right – I sort of consider
But even the fact that I don't live in objective reality when it comes to the prices of designer duds can't stop my mouth from falling slightly agape at the fact that those in the Fashion Ivory Tower want us to pay $73,000 for the Balmain Crocodile Tail Leather Jacket. Let's get a better look, after the jump…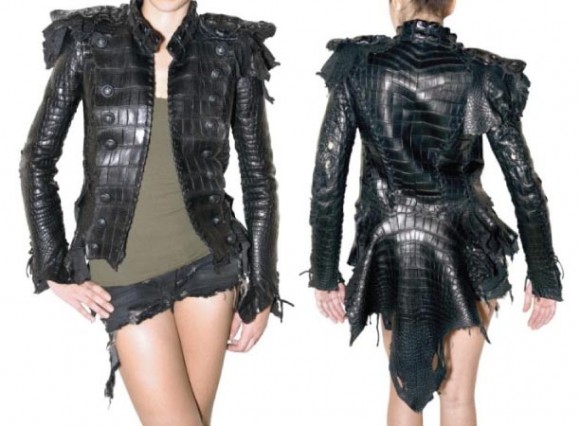 Don't get me wrong – I love this jacket almost as much as that guy from Anchorman loves lamp. It's fantastically hip, impeccably tailored and made out of the most luxurious leather on the face of the planet. It's post-apocolyptic chic and so cool it hurts me to look at it. I want to live in it. It may be the greatest jacket that I have ever glimpsed in my young life. But holy crap, $74,000?!?!
Off the top of my head, the things that I could buy with that include: a black-on-black BMW X5 with an engine upgrade, a big down payment on a modernist condo in a really nice building in midtown Atlanta, a herd of tiny Bulldog puppies to follow me everywhere I go, a freaking boat (not that I even want a boat), a houseful of Jonathan Adler furniture, rugs, linens, and accessories, or a lifetime supply of Apple laptops, so that it would no longer be a big deal when I knock mine off the couch.
Or I could buy an absolutely sublime Balmain jacket. The grousing about price can be easily extrapolated down to the price levels that we normally talk about – $1500 is a mortgage payment that is hard to come by for a lot of people. I recognize the inherent hypocrisy. But as with everything, there are degrees to exorbitant pricing, and this jacket may have reached one with which I am simply not comfortable. But, if you happen to have $74,000+shipping laying around and you're a French size 38 (and if it's only available in that size, that means it has already sold out in all the other ones. Wrap your head around that), you can buy it through Luisa Via Roma for $73,935.