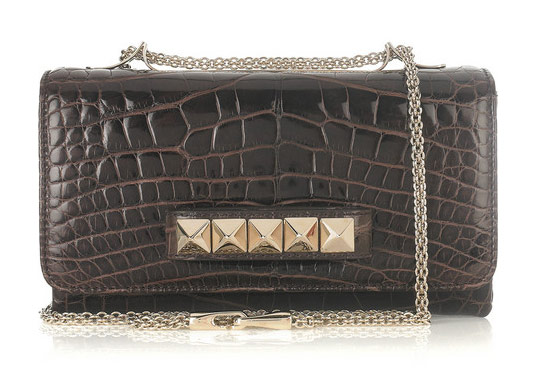 The Valentino Va Va Voom Crocodile Shoulder Bag, $11,275 via Net-a-Porter
If fashion seasons were like the Olympics, you could call Fall 2011 the Exotic Games – everywhere you look, brands are coming out with crocodile and snakeskin bags, seemingly each a little more drool-worthy than the last. Because trends are rarely penned in to a single cycle, though, plenty of reptilian delights have turned up in spring's collections as well, including from brands that aren't necessarily known for their work with exotics. That would be the case with the Valentino Va Va Voom Crocodile Shoulder Bag; Valentino produces exotic bags here and there but hasn't made it a brand trademark, although that hasn't stopped the company's designers from getting in on the fun.
I've been a bit suspicious of this bag since the Valentino Spring 2011 runway show back in September of last year, and I still don't entirely understand the little studded hand slot, what purpose it serves on a shoulder bag or why, exactly, anyone would ever be compelled to stick her hand in it. Aside from that, though, this simple, straightforward design is pretty nicer, particularly in dark-chocolate crocodile. The non-exotic details are nice on this bag as well, particularly the delicate metal handle attachments that adorn the top. But for five figures, the bag should be perfect, and this one isn't quite there. Buy through Net-a-Porter for $11,275.