Megs and I have an odd ability: We talk about things, and they happen. It's inexplicable, and there have been too many instances to completely enumerate here (Example: we joked that I would end up on the plane with a rapper on my last flight from Atlanta to New York, and I then found myself seated next to a guy from Public Enemy), but trust me, it happens. We're magic, but we don't know how to control it.
Recently, we found ourselves discussing a $16,000 partially sueded-croc Celine Luggage Tote that Megs had seen in the brand's Bal Harbour boutique, and we both agreed that Celine was missing an opportunity by not offering a Luggage Tote made entirely out of regular crocodile. Lo and behold, photos of Celine Pre-Fall 2011 gave us a look at exactly the bag we were hoping to see. And if a partially croc Luggage Tote costs 16 grand, I don't even want to speculate how much this one will be. Larger photo, after the jump.
UPDATE: We've heard this bag may be stamped instead of real croc, and if that's the case, one of these beauties may indeed be in my future.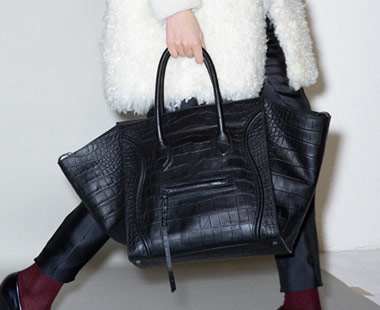 Ok, so the photo isn't all that large, but Pre-Fall and Pre-Spring never give us the detail shots that we want. Still, it's a little something to tide us over until high-resolution images of this beauty hit the Internet.
Photo via Vogue.com.