Although versions of that famous phrase appear in the works of both Homer and Shakespeare, I think that it is most usefully and accurately employed to describe my salivating, almost quivering reaction upon seeing the Salvatore Ferragamo Python Soft Sofia Shoulder Bag. To put it in more vernacular terms: holy crap, y'all. If a bag can be sexy, this bag is sexy. I want to settle down and buy a house with it – too bad its price would be a good start to a downpayment.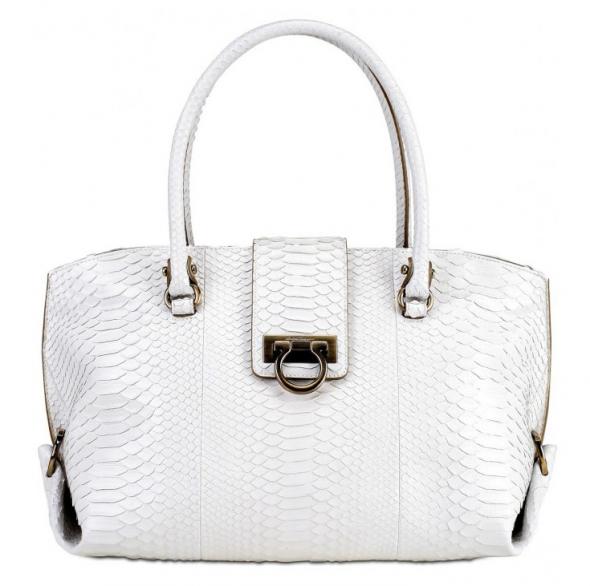 It's just…beautiful. Elegant, simple, clean-lined. I've always loved the somewhat off-kilter structure of the Sofia bag's gussets (they're folded up at the bottom and affixed with metal Ferragamo rings instead of neatly stitched), and rendering the shape in python only serves to up the wow-factor by several orders of magnitude.
I can only imagine how fragile snow-white python would be and how scared I would be to get it dirty, so this bag is likely not for the faint of heart or those whose existences find them sitting their bags on the ground from time to time. If you're looking for a beautiful bag to carry very carefully, however, this is the one that I would suggest over all others that I've seen in the past few months. Buy through Luisa Via Roma for $3391.