As much as I love the shape of the Notting Hill Westbourne, it is the rich saturation of colors that has me ga-ga for the brand. To be honest, it is both aspects. The structured shape of the Westbourne is typically not one I am drawn to, yet the feminine and streamlined design is perfectly put together. Why I really love this bag is that it is perfect for dressing up but can still be worn dressed down. And for me, having a more elegant bag in my wardrobe that I can still wear with jeans is a homerun.
For Spring 2010 I could not pass up sharing the colors that Notting Hill has available in the Westbourne.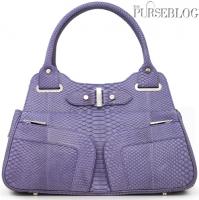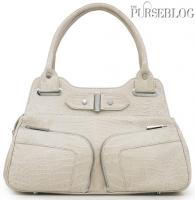 There is Lilac Python, Cream Matte Crocodile, Sunset Orange Glossy Python, and Pink Python. Each color catches my attention brilliantly. It is as if these Notting Hill bags are in a color league of their own. While the color is rich and saturated, it does not look overdone or too powerful. There is an element of toned-down to a vamped up color scheme that is anything but bland. Sounds like an oxymoron, but these bags are working it!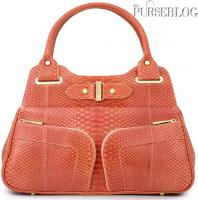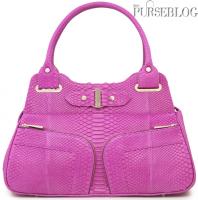 I have felt the python skin Notting Hill Design uses in person and it is rich and smooth, lacking any sign of light and flaky like some other skins we see. I am sure the matte crocodile is just as luscious as it looks as well. This fabulous foursome leaves an option for everyone. The croc version is around $14,000 and python is around $2,650 via Notting Hill Design Online.
Which color Westbourne do you prefer?