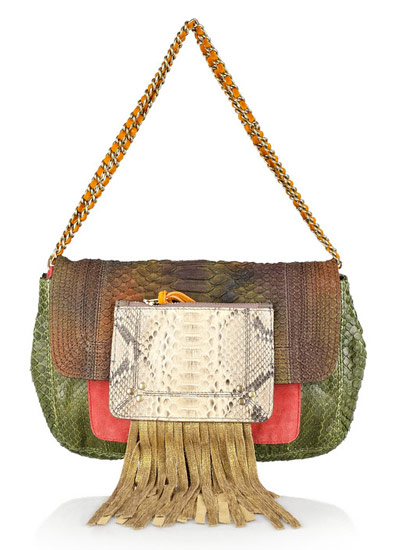 Jerome Dreyfuss Lucien Python Shoulder Bag via Net-a-Porter for $1280
Parisian designer Jerome Dreyfuss has seen his profile rise quite a bit over the past few seasons. Net-a-Porter has picked up his luxury-contemporary bags for Spring 2011, and the Jerome Dreyfuss Lucien Python Shoulder Bag is a great place to start if you want to understand his aesthetic. The colors and combinations may be a little left-of-center, but the materials are top-notch at a price that isn't too terrible, in the grand scheme of things.
The only thing that makes me question this bag is the fringe on the front; the more I look at it, the more it seems like an overwhelming suede mustache. In my mind's eye, I can see this bag looking absolutely chic sans the tan suede, but I still have a nagging little feeling that perhaps the design would lose something without it. A sense of playfulness? Maybe. But if Jerome Dreyfuss is skillful enough to make me stop and consider that a suede bag mustache might be a savvy design move, then I suppose I shouldn't question his choices anyway. Still, I'd like to see the bag without the fringe for comparison's sake; I quite like everything else about it, particularly the color combination and texture. Let us know what you think in the comments, or buy through Net-a-Porter for $1280.