It makes me so happy to see a young designer stay true to his or her aesthetic when launching handbags. Too often, accessories neophytes can get caught up not only in the potential dollar signs of successful bags, but also in the design challenges that they present, which different from those of ready-to-wear. An accessories designer gets brought in who isn't a great fit for the brand, and more mediocre bags flood our stores. Zac Posen, I'm looking at you.
Thankfully, it seems as though Jason Wu isn't going to fall into that trap. The Jason Wu Python Shoulder Bag, from the just-show Pre-Fall 2011 collection, is not only perfectly on-trend but also beautiful in its own right.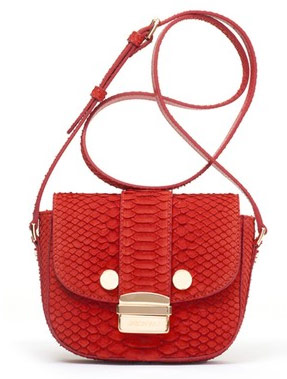 This bag clearly owes a debt to the Celine Classic Box Bag and the aesthetic that that bag and other like it have ushered in to favor, but the lines within that genre are so classic that none of the bags can ever truly be a ripoff of another unless it's a stitch-for-stitch copy. And this bag clearly isn't, what with the lush red sueded python. I bet Phoebe Philo wishes her accessories people had thought of that first.
The price of this bag is as yet unavailable, but it should be reaching retail in mid-summer. Photo via Jason Wu.