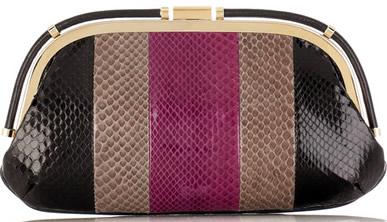 Anya Hindmarch Burton Python Clutch
So what if my sister and I are clutch obsessed? I really am just handbag obsessed across the board, which of course is why Purse Blog exists today. You know how there are people that own a warehouse full of cars? I want a closet that is warehouse sized full of bags. No, I would never be able to carry them all. But I would peruse the aisles and pick up and marvel at each and every bag. The warehouse of bags was an exaggeration, maybe just a large walk-in closet?! And all I would have to decide is if I wanted to separate the bags by designer or silhouette. Again, if I had that warehouse I could do it by silhouette from designer, but I am trying to be much more realistic. I think by shape. So there would be my clutches, glorious clutches! My holy grail clutch/wallet is my Hermes Kelly Long Wallet in alligator (I am obsessed!!!!). I have a few python clutches, I need an ostrich clutch, and the leather array is large. But I need a funky modern clutch, and I found the perfect fit for my someday closet full of bags.
The pink, beige, and black python skin stands out and makes a statement on the Anya Hindmarch Burton Python Clutch. This clutch is an attention grabber, a talk of the party, but still a stunning elegant piece. The shiny python will stand out and grab light from all directions and the framed top will give a polished finish. The inside is lined with black suede and has a small pouch pocket. Again, for my clutch section of my future dream closet, there will be a spot for this Anya Hindmarch bag. Buy through Net A Porter for $995.