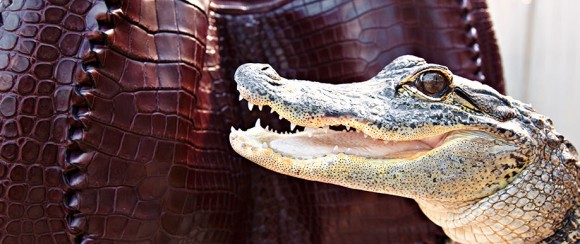 " On the twelfth day of Bottega Veneta we have our best photos and bags yet, a duo of Croc bags, the finest we have ever met!"
How can I begin to describe our final day of Bottega Veneta without typing in all caps followed by an absurd number of exclamation points? It is nearly impossible. I want to stand on top of my couch with my lap top in my hands and scream my excitement over these two bags and the photos Vlad took.
To answer one of your first questions, yes that is a live alligator in our photos. To be precise, he is a four year old alligator named Wally who lives at Everglades Holiday Park in Florida. Next answer is also yes, that is two exotic Crocodile BV bags that Wally is posing with. So let's get to it!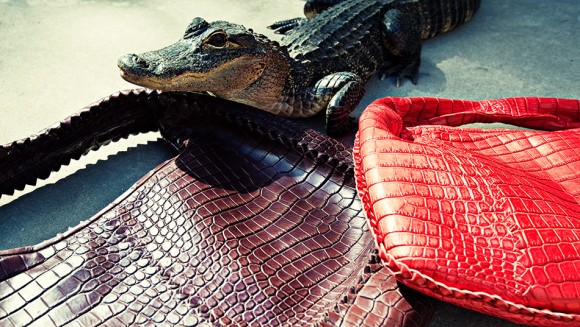 Vlad and I have been toying with the idea to incorporate an alligator into our photography. There are countless reasons why this seemed like it would never work. Where exactly would we find a 'tame' alligator? Would they allow us to take the photos? We felt a bit weird at first. Here we are walking into an Everglades park, that takes people on air boat rides and teaches them about the natural habitat of the Florida alligator, with two exotic crocodile handbags. It did seem a bit hypocritical.
But Wally and his handler were all for it. Actually, we voiced our hesitation to Mike, the handler, and he simply said, "Wally loves this and is happy the bags are made our of Croc not gator'. Pretty comical at the time. Wally behaved well enough that we could remove the tape around his mouth and he even smiled for us (literally as seen in the top photo). Eventually, he even poked his head through the smaller of the two exotics.
Let me just say it now: Wally is now our favorite alligator, ever!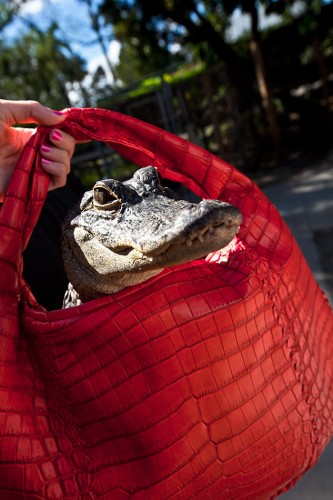 Oh yea, the bags! Obviously, this photo shoot would not have been possible without these luscious bags. We decided to end Day 12 with the ultimate luxury from Bottega Veneta, exotic classic Venetas. The Veneta is the house staple, a simple, timeless, chic classic. The entire aura of the bag is created by its seamless design and effortless shape. Having the Veneta be made out of soft crocodile fume only further intensifies the bag's beauty.
We had two bags here: the large BV Soft Crocodile Fume Hobo Bag in Truffle and the smaller BV Soft Crocodile Fume Large Veneta in fever. There is a major price difference, a whopping $15,500. The difference is largely made up because the truffle bag is made with 8 (!) crocodile skins. Yes, eight. When you look closely at the bag you can see the different areas of the soft, larger scaled belly skin. The treatment of the skin however makes both of these bags very supple. The crocodile skin is sturdy, yet soft and extremely malleable. The bag holds its shape with the perfect amount of slouch.
These two handbags are Bottega Veneta holy grails for me. I must admit I could go for the less expensive of the two, in a sultry rouge hue that is soaked up beautifully by the skin. Both are exotic, both are magnificently made, and both are ultimate classics. Buy through Bottega Veneta for $19,500 and $35,000.
Note: Wally, the gator was not harmed during this photography session. In fact, he played along nicely and hoped we captured his good side!