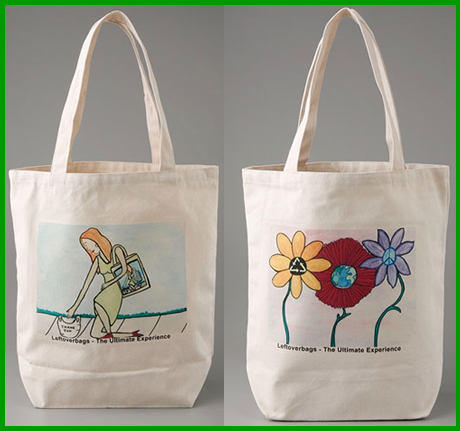 Leftover Bags Thankyoulady Tote and Leftover Bags Flowerpower Tote
If you have not already done so, you must get rid yourself of using paper and plastic bags at the grocery store. It is really not necessary, hurts the environment, and furthermore it is so entirely unfashionable right now. It is like a huge fashion faux pas now. So stop doing it and start reusing! I keep about six Whole Food's canvas bags in the trunk of my car so that Vlad and I can use them each time we go grocery shopping. The only real concern is remembering to take the bag out of the trunk and into the store. Typically we forget until checkout and inevitably I shout to Vlad to make a run for the bags before the cashier finishes ringing up our food. Not only is this friendly to the environment, but it gives Vlad a mini-work out a few times a week.
For Earth day, if there is nothing else you can think of doing to help the environment, at least buy some canvas shoppers and put an end to using plastic bags. Leftover Bags are designed with organic-cotton and feature a graphic that can define your style. Choose from the time tote, flowerpower tote, thankyoulady tote, and the realfashion tote. The back of each tote features a logo graphic. There are double handles with a 9″ strap drop, which is perfect for carrying over the shoulder. Dimensions are 16″H x 17″L x6″D. Each of these environmentally friendly totes are carried exclusively at ShopBop for $38.