I've said this many times before, as I know both Amanda and Megs have as well: Coach gave me my first glimpse into the designer handbag world. To this very day, it makes me smile to remember opening up my brand new Coach bag Christmas morning in 7th grade. That feeling was indescribable, and I knew from that moment on I would be a handbag girl! As I grew up, my taste did too, and I often began to overlook Coach, but that has changed over the last couple of years. Coach got its groove back, and season after season I find myself lusting over its newest offerings. Bags, shoes, leather jackets—you name it and I want it. For Spring 2018, Coach introduced The Parker Bag, and I've got a serious case of the shoppies. I want this bag, I need this bag, and I must have this bag…now.
The overall aesthetic of this bag is what really caught my eye. I love the classic flap shape, but it's the added details that made me fall in love. When I saw this bag I immediately knew I wanted to see more, so I reached out to our friends over at Coach to get up close and personal with The Parker Bag.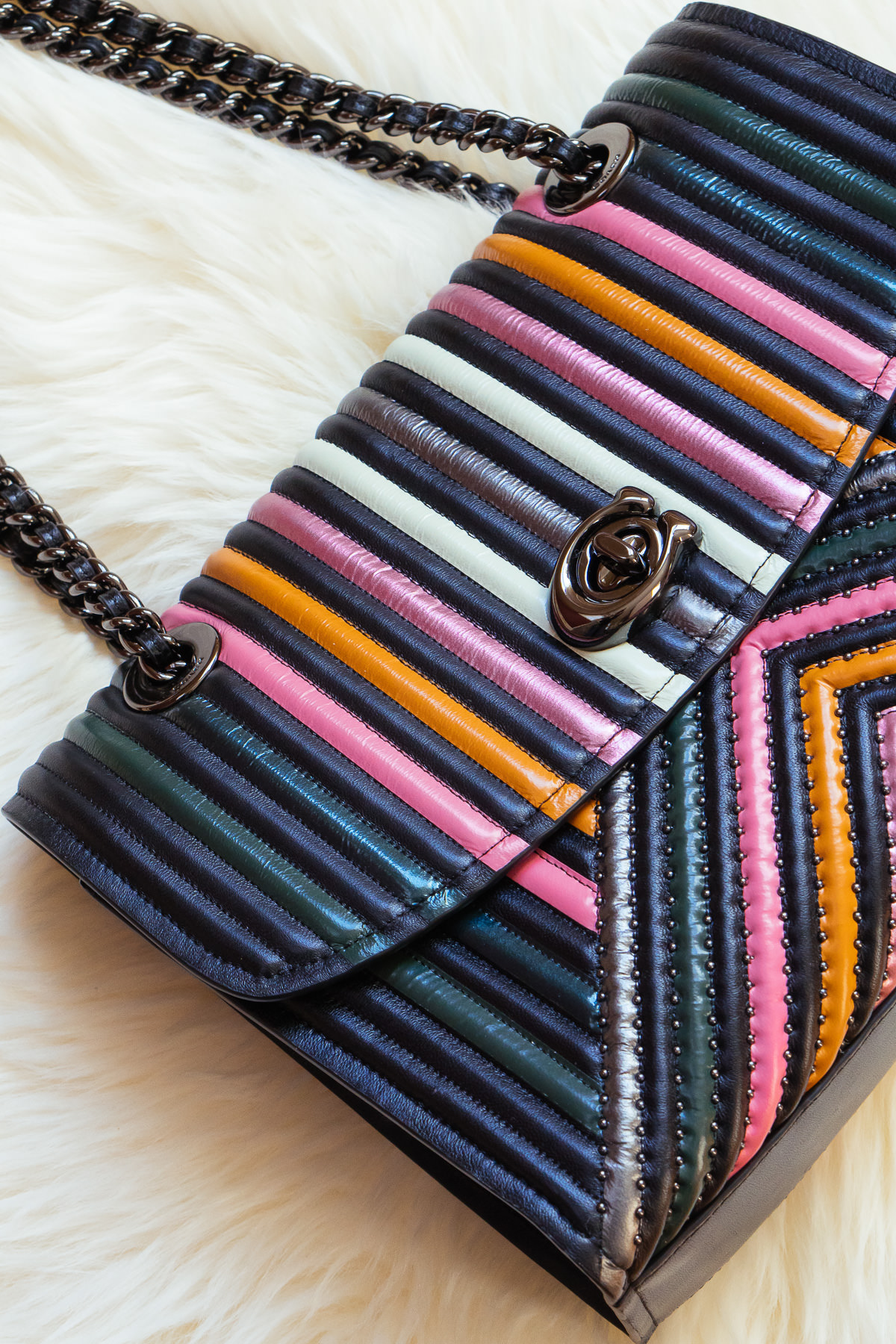 Coach has released a few different versions and colorways of this design, but there's two in particular that I really want to own myself. I love the off-white Parker with quilted detailing and gold rivets. It's ladylike and classic while still being a bit fun. While I obviously love and would wear the white and gold combo, I really shouldn't be dreaming about snatching up another white bag anytime soon. Hence, I'm also fangirling over the colorblock version of this bag. It's so much fun, and I have to admit that I felt some bag-loving eyes on me when I tested this little lady out earlier in the week. I styled her with black jeans, a grey cashmere sweater, a leather jacket and Nike high-top sneakers. This bag is black, but it's anything but basic, which is ideal for someone like me whose entire wardrobe is black.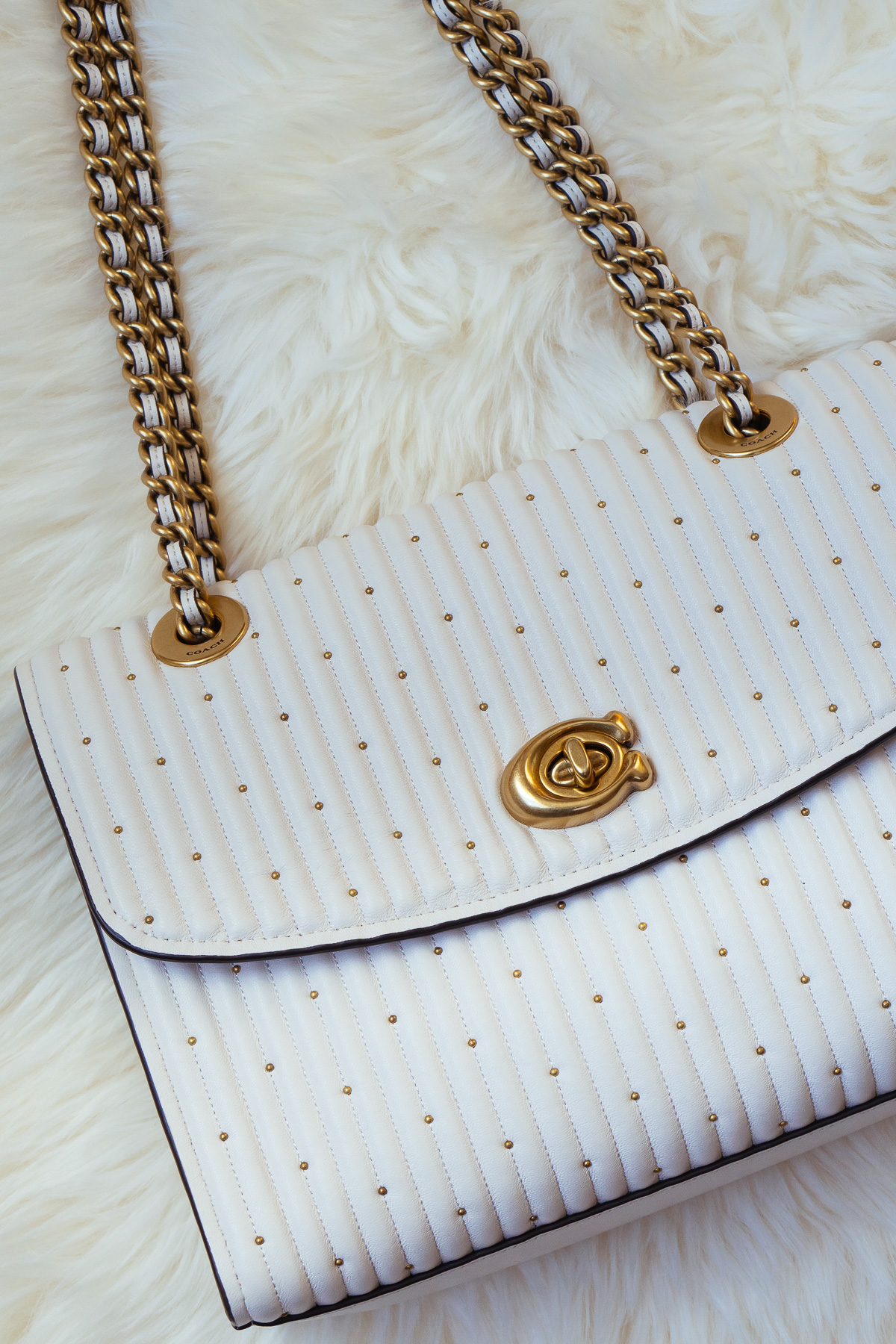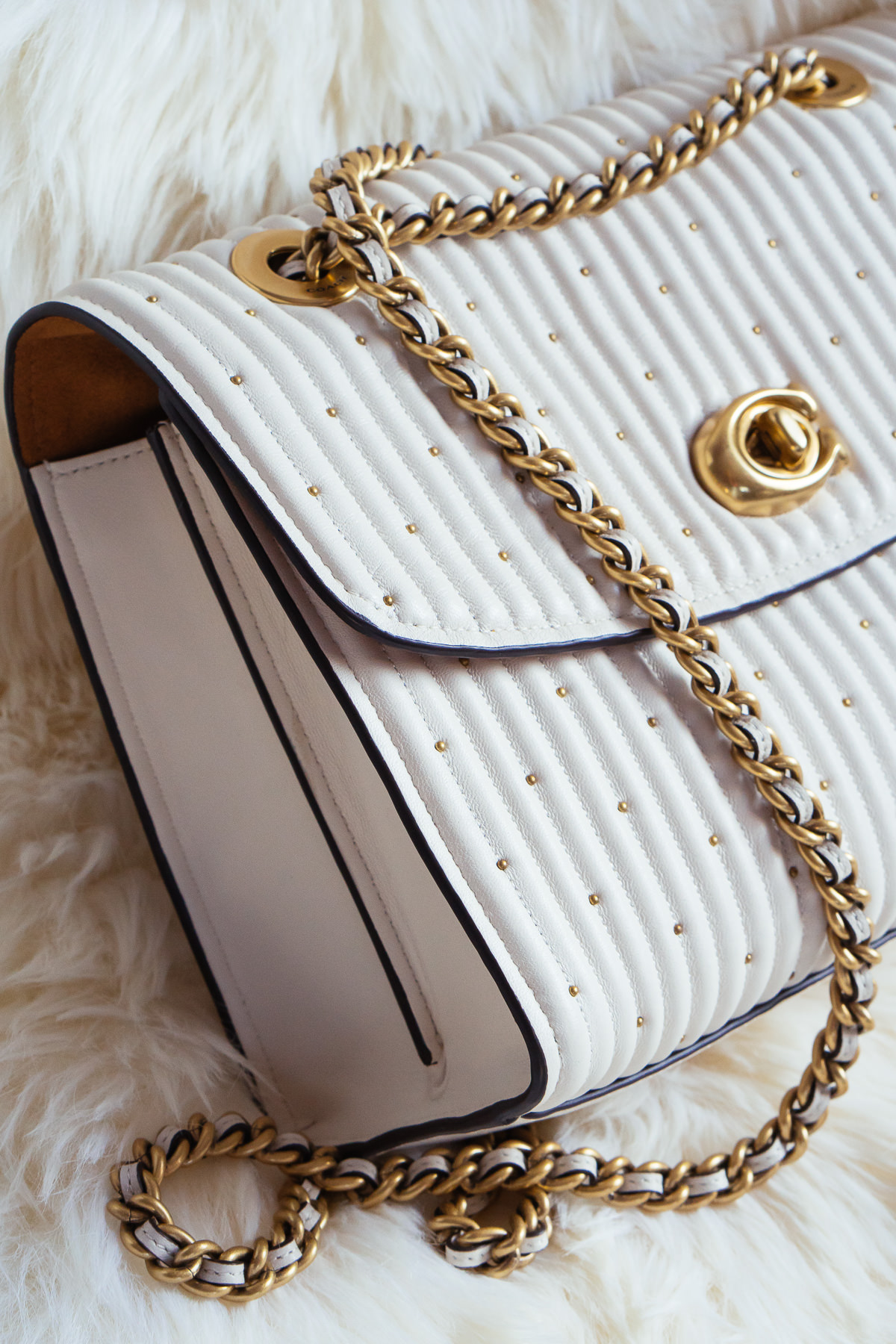 The interior of this bag is split into two compartments, with a large zip pocket in the middle. Additionally, there is an interior slit pocket and a pocket on the outside back of the bag. The chain strap can be worn over the shoulder or crossbody, but can also be doubled. Not only is this bag pretty and fun, but it's functional as well, making this an ideal day to night bag! I loved how spacious it was, and while I'm used to having to cut back on what I carry due to the mini-bag trend, I didn't have to sacrifice any of the usual suspects in my bag with this lady! Overall dimensions are 10 1/4″ L x 7″ H x 4″ W. The Parker Bag retails for $495 in both colorblock and off-white, available via Coach.