Normally when Marc Jacobs makes bags for his eponymous line, they're a little bit more streamlined and subdued than his efforts on behalf of Louis Vuitton, but the bags that we've seen from him recently have been anything but simple. We've seen fur, sequins, metallics and exotic leather, all combined in various ways for maximum handbag impact.
Some people may tire of the complication, but I love it when designers mix materials. That also means that I love the Marc Jacobs 2010 Rockstar Clutch – it has all of the necessary elements to be a great statement bag that everyone will notice. Plus, this bag is a little bit more subdued than some of the fur-and-sequins bags we've seen from Jacobs lately, so it's a good way to buy in to the look without committing to something slightly ridiculous.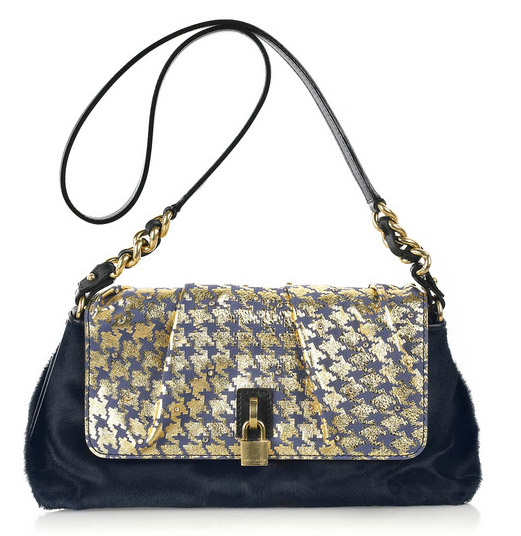 Not only did Jacobs manage to mix a bunch of materials, colors and textures in this bag, but he managed to do it in a way that's really visually appealing. The sapphire blue haircalf would have been beautiful on its own, but its juxtaposition with the grey and gold houndstooth leather only makes it more appealing. All three colors work together seamlessly, which is something that rarely happens when a bag mixes several shades and textures. Marc's still got it, without a doubt. Buy through Net-a-Porter for $850.