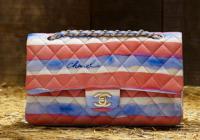 When we covered the runway debut of the Chanel Spring/Summer 2010 Handbags back in October, reviews were mixed. Some people appreciated the slightly barnyard feel of the collection, others thought it wasn't luxurious or sophisticated enough for the Chanel customer.
As time has passed, my opinion has softened a bit. They didn't go as straw-heavy on the bags that made it to retail, and several of the non-straw bags are totally lovely. My personal favorite is the watercolored Classic Flap Bag, which would look utterly elegant with a variety of summer wardrobe options.
On the downside, they're apparently still trying to make those puffy Coco Cocoon bags happen; I was really wishing that they were going to be a one-season experiment, what with their startling resemblance to trash bags. As for the straw bags that dot the collection, they're very taste-specific, but I could see some of the more subdued version working quite well with summery white linen or various bright colors for contrast. We've got pictures of all the bags, after the jump.
For information on pricing and availability, please contact Chanel at 800) 550-0005
All pictures via Chanel.com