In general, I'm an enormous fan of everyday objects turned into art objects. Celebrating the beauty in everyday, functional things is a worthwhile pursuit; the design equivalent to "stopping to smell the roses." And perhaps if we begin to blur the line between beautiful things and functional things, we would end up with more things that are BOTH beautiful and functional, and then we all win. Taking pleasure in the everyday is nothing to sneeze at, after all.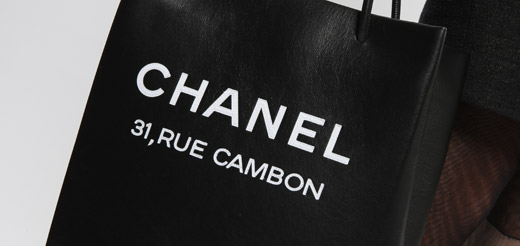 Chanel's contribution to this idea is their Spring/Summer 2009 Essential Handbag. Modeled after the iconic shopping bags of their 31, Rue Cambon flagship location in Paris, the bags are produced in smooth calfskin in Chanel's signature palette of black, white and pale pink. They come in three sizes – small for $1525, which is the only of the three available pale pink, medium for $2625, and large in $2995. From the information that we received from Chanel, it's unclear whether the small is also available in white and black – if you're interested, a call to your local boutique may be warranted.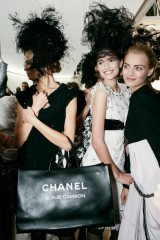 On to the real question – do these bags achieve their design goals? My answer is a qualified yes – they are, after all, remarkably accurate leather reproductions. It's certainly not an easy task to get a piece of leather that large to be that smooth and also have the crisp corners and creasing of a thick-paper shopping bag, and the bag accomplishes that quite well. In fact, from a distance, I probably wouldn't realize that it wasn't an actual shopping bag because the leather is very matte. I can't tell from the pictures, but there are indications at the side gussets that it may also collapse like a shopping bag, which would be kind of a cool trick for storage, even if it would probably leave an unsightly crease in the leather. It also may have some kind of rigid structural surface over which the leather is stretched in order to create the extremely flat front and back panels, but only a hands-on inspection will tell.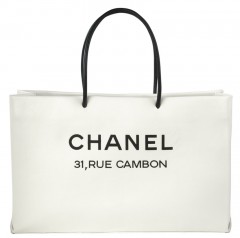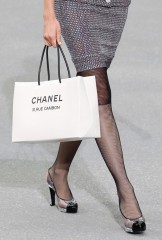 Structurally and design-wise, I have no problem with the Chanel Essential bag, but I do have a problem with the timing of its release. In an economic climate where women shopping at Hermes have been said to be asking for plain white shopping bags in order to hide the perceived vulgarity of their luxury purchases, is a handbag that proudly announces, in bold block print, just how much money was spent on it a wise choice? Probably not. Logo bags have been losing popularity for more than a few seasons now, and this is probably the most obvious logo on the face of the planet. Krazypants Lagerfeld would not deign to have interest in how the other half lives, but handbags, second to only perfume and cosmetics, are essential to how a brand introduces itself to a larger audience.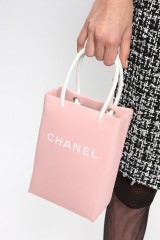 The potential market for a handbags is much larger than the audience for a ready-to-wear dress or even one of Chanel's iconic boucle suits, and choosing a measure of vulgarity at this moment, even if it's intentional vulgarity (which appears to be at least part of the point with this design), could potentially alienate customers. Spending $3000 on a handbags is impossible for an ever-increasing number of women, and the idea that you should spend that much on something that looks just like an item that is normally free may rub some people the wrong way.
Even at a dramatically different price point, this bag may have been a real hit. I could see my own reaction to it being slightly different if all the models were placed from, say, $1000 to $1500 (the bag is very, very simple, after all). In that price range, it would be a fitting introduction into the brand's style for new or younger customers and a winking reference to their own branding. As it is, the bag's release is just kind of baffling.
P.S. Please consider supporting our small, bag-loving team by clicking our links before shopping or checking out at your favorite online retailers like Amazon, Neiman Marcus, Nordstrom, or any of the listed partners on our shop page. We truly appreciate your support!