With cold weather approaching (it'll get here eventually, I know it will, even if it doesn't seem that way right now), most of us have started planning our winter wardrobes and maybe even amassing our favorite fall pieces to make sure we get our hands on them before they sell out. Almost all of the stuff I've acquired is black or dark grey, which reminds me: I need some winter white.
Winter white (which is just a warm tone of ivory, but we'll go with the season-appropriate name) came around as a trend a couple of years ago and never really went away, and it's a nice alternative to not only the dark colors of fall dressing, but also the outdated rule that one shouldn't wear white after Labor Day. If any of the people who still subscribe to that notion can look at the Burberry Quilted Patent Tote and tell me truthfully that it wouldn't be beautiful with a charcoal sweater and dark denim, I'll be very surprised.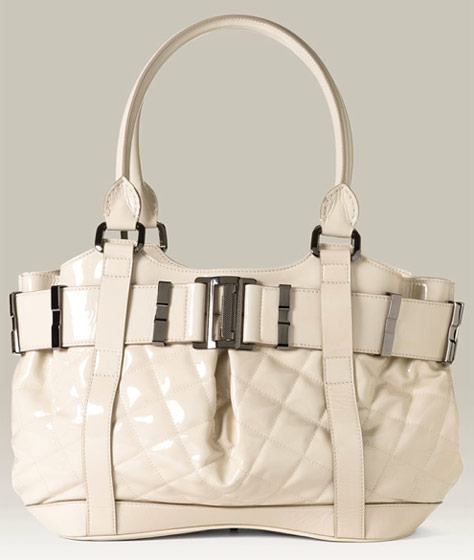 I might normally regard this bag as too simple for me, but the shiny gunmetal hardware has totally won me over. Instead of skewing traditional, as most people probably expect of Burberry, the clean-lined buckle takes on a modern military look that's as cool as it is unexpected. The bag's shape is classic, the color is lush and the details are trendy, which is a formula that almost always equals a great bag. Buy through Nordstrom for $1395.