Calling all BBag lovers; you're gonna wanna see this.
'Tis a momentous occasion as I present before thee my prize: the Balenciaga Work.
That, too, in the exact colorway I've been lusting after; black with silver Giant 21 hardware!
Finally, I'm all set for the next fashion week, barring only an invitation!
Jokes aside, though, you might remember me dropping not-so-subtle hints as of late about wanting a BBag. And the road to acquiring this now-vintage beauty has been nothing short of tumultuous, either. So, it was only last week, as I was restricted to the confines of my bed with a severe case of flu, that I had the opportunity to do some much-needed introspection into my BBag journey… and on what's to come!
Now, the Balenciaga Motorcycle bag isn't an entirely new subject of discussion amongst us handbag lovers. It has risen, fallen, and risen again throughout its twenty-something years of existence. And since its discontinuation last year by Demna Gvaslia, it has been enjoying renewed popularity among the fashion set. We, too, have pondered over it countless times here on PurseBlog, and the PurseForum threads, where the most hardcore Bal-lovers analyze the bag in extensive detail, provide much fodder for insight to those interested.
So, it's only natural to ask, what's there to speak about again when it comes to the BBag, beyond the cursory exhilaration and the thrill of the hunt we're already so familiar with?
Stumbling on the Prize
The year is 2004. You're an impressionable youngster, or maybe an angsty teenager, who's just come across what you think is the most stunning bag ever splashed across the pages of Vogue. Dangling languidly off the arms of off-duty models, its squishy leather, a splatter of pewter studs, and mass of tassels (complete with a pint-sized mirror) ooze an unmatched casual glamour you've never seen before in a handbag. And that image remains etched into your memory as you continue to covet and chase one of those purses well into adulthood.
But no, that's not how I fell in love with the BBag. In fact, my obsession with it is much more recent, only flowering early last year, as I began to notice its growing presence among fashion's luminaries – editors, stylists, and of course, the Olsen twins. Ah, the Olsens.
Arguably no other starlet(s) had as much bearing on the fashion of the past two decades as the Olsen sisters did. From oversized garbs to super-sized handbags and eye-watering exotics, they had it all under their wing far before anyone else could imagine.
Now, I'd always (and by always, I mean for the past two and a half years) held the BBag in certain admiration. Hermès, Chanel, and Vuitton have their respective places in the handbag world. But few bags are designed to look better with wear, and I mean A LOT of wear, something Balenciaga does with a lot of gusto. So, when Mary Kate whipped out her infamously distressed City in mint green (or pistachio, given its state of anguish, the jury is still out on that) again, complete with a venti-latte in hand, I found myself seriously contemplating purchasing one of these Y2K stunners.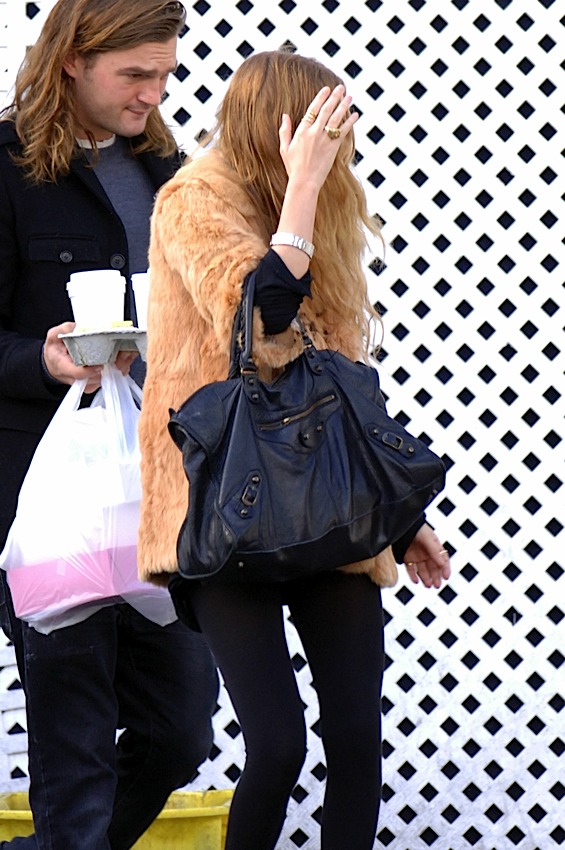 But the BBag had just started regaining traction, accelerated by Demna Gvaslia's updated takes, such as the Neo City and the Le Cagole; it was fast leaping away from my hopelessly meager budget. Hence, for nearly two months, I searched high and low on the resale market, both among American sellers and British and European ones, the process morphing into a part of my daily ritual.
I knew I wanted the Work in black GSH – courtesy of a picture I'd come across from Paris Fashion Week – but the combination of the perfect size, the perfect colorway, and the right price wasn't easy to achieve.
That is, until one fine day, on Vinted UK, I found it! The scramble to contact my UK merchant for its safe transportation, all the while negotiating with its seller, confirming its authenticity, and perpetually fearing that someone else would snap it up before me, was very real. And, of course, then came the inevitable month-long wait. It wasn't absolutely flawless either (more on this later), and it turned out to be costlier than I'd have liked.
But the moment I unboxed it, it was all worth it!
First Impressions
Is it just me, or do you also find that, when you buy something pre-loved with known flaws, your attention automatically gravitates towards those the moment you take it out of its box?
The Work I bought had two major ones – general fading of the black color (which is to be expected with most secondhand BBags) and a missing giant stud on the front. And as I waited with bated breath for its arrival, I couldn't help worrying myself to the point of paranoia about the missing stud being too conspicuous or rendering the bag unusable, despite the seller clearly stating otherwise.
When it finally arrived at my doorstep, however, as I held the gorgeously soft and chewy leather, not only did the missing stud appear completely insignificant, it downright made the purse feel slightly adventurous. Like how a warrior proudly displays his battle scars!
And my Work is just that – an everyday warrior. When empty, it literally sinks into a puddle of lambskin. But when it comes to securely housing my paraphernalia, it's the most stylish carryall I could've asked for. And as I traipsed around the house wearing it, my joy knew no bounds!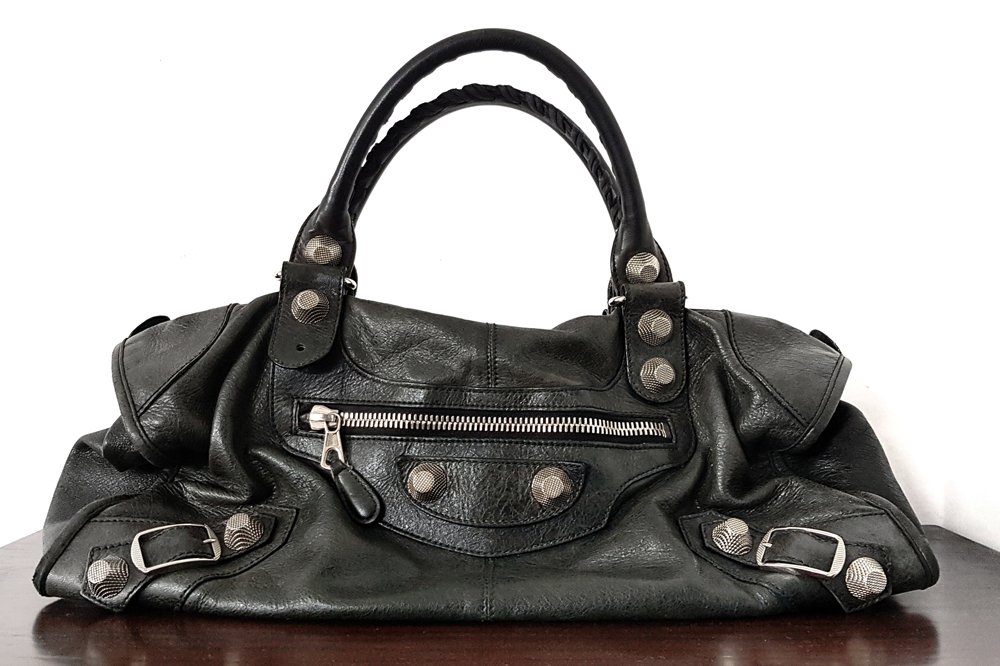 My Final Thoughts
When you have a particular purse that works well for you, trying out newer silhouettes is difficult rather than simply purchasing the same old one in different colorways. And having become comfortably accustomed to my loyal workhorse, the Proenza Schouler PS1, I knew that if I had to "invest" in a Balenciaga, it would have to check all my boxes before I bit the bullet.
Since I needed something larger than the PS1, the Bal City or the Part-Time were no-goes. Nor did I want to look like I was hauling luggage with the Weekender. The Work, therefore, seemed to provide the perfect balance.
Its biggest catch, however, is the lack of a shoulder strap. While you can technically fit its handles on your shoulder, I've never been too comfortable carrying it that way. So it always ends up either hand-carried or at the crook of my arms, Olsen-style. And as it has eased into my daily life, I can confidently say that the absence of a shoulder strap feels less acute to me now than it did.
But as I carry the Work every day to college, what I've come to love about it the most is how substantial it is. Compared to the relatively understated PS1, this BBag grabs attention and sparks conversations, something which, as a purse-lover, really excites me. Plus, the slightly faded black hue has been a true chameleon, seamlessly blending in with most outfits and cleverly masking general signs of wear.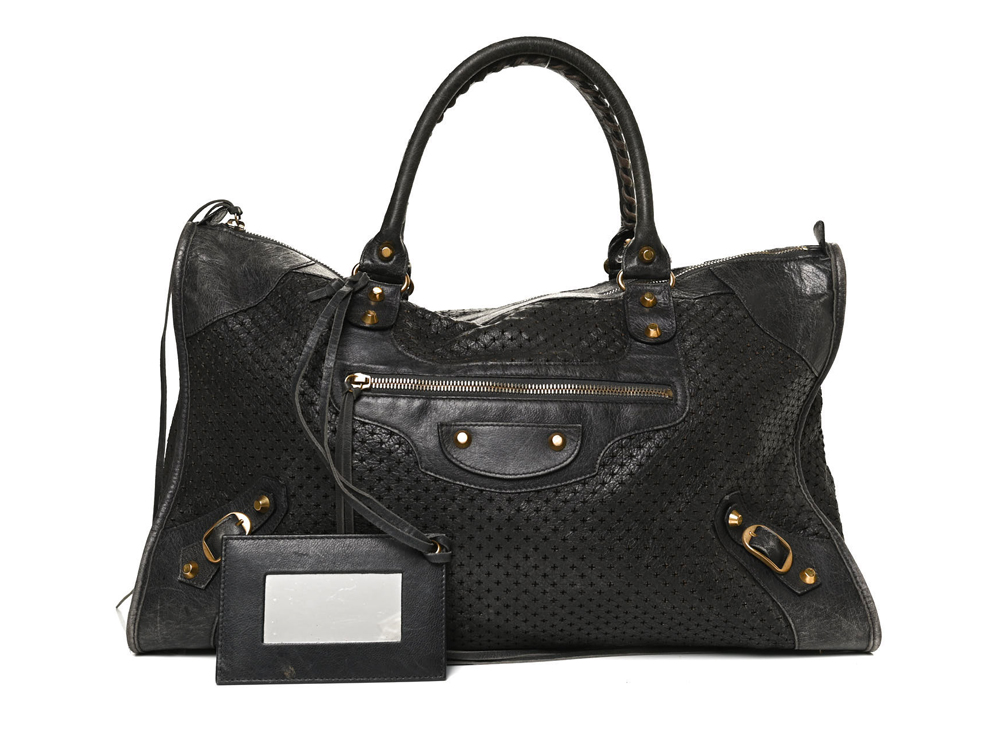 If you're considering buying a Balenciaga Work, it's important to keep certain things in mind. Besides the lack of carrying options, it's a pretty large bag, meaning it would get quite heavy once you put in your belongings. Additionally, despite being a spacious purse, it doesn't fit a laptop comfortably owing to its lack of structure. Even large books might have their corners sticking out, potentially damaging the leather or making the pipings prone to splits.
And finally, regarding resale prices, the BBag is still on the rise, with limited edition styles from certain years going nearly up to their previous retail figures! While that's great news for collectors, they'd cost you quite a bit if you're planning to buy. So, unless you really love it and can imagine using it even when it's cycled out of trends, you, too, should be on the lookout for when prices start falling again on the resale market.
What differentiates the Balenciaga Motorcycle from most other It-bags in history is that, despite being a quintessential aughties carryall, it's devoid of any incriminating insignia that ties it to a particular point in the past, like the Dior Saddle or the Fendi Baguette. As a result, while those may risk looking dated once the Y2K-resurgence trend is on the wane, the BBag can still pass off as a perfectly normal (and supremely usable) design. Alongside that, the City gave birth to an entire generation of beater-style purses that glamorize the tough-chic, carried on by the likes of Marc Jacobs, Rebecca Minkoff, Givenchy, and more, and for purses like these that only look better with age, there will always be demand.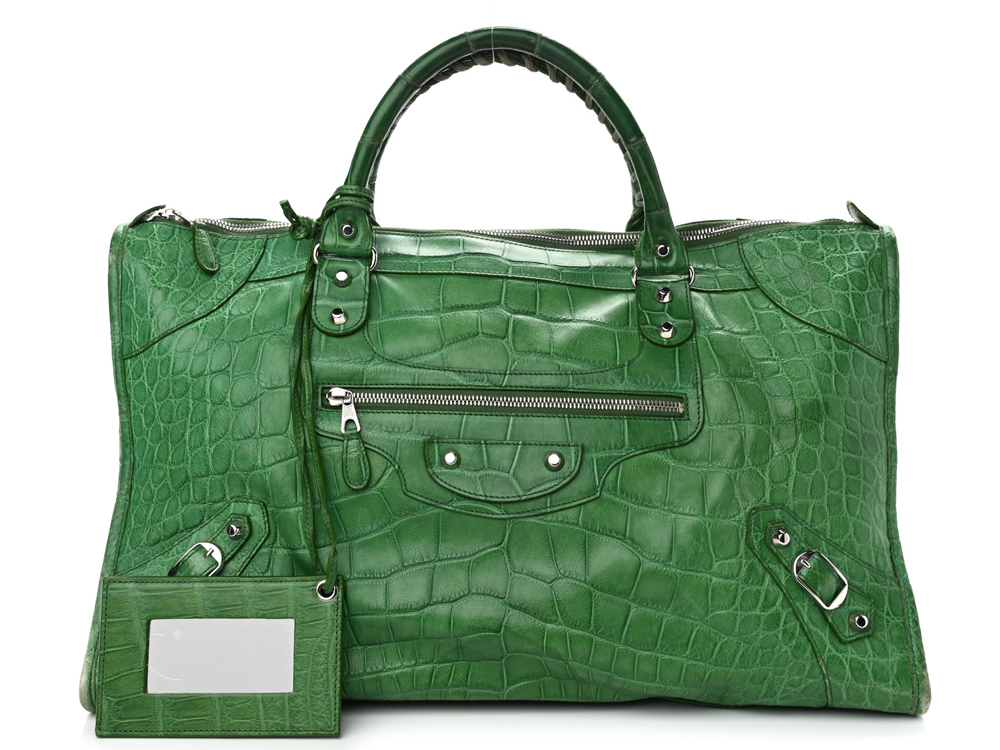 Ultimately, what leads us to purchase vintage purses, aside from their obvious function as, well, purses? It isn't as if no other handbags currently on offer can confer the same assortment of practical features upon us.
If anything, modern technologies allow our bags to do things they previously couldn't (like double as speakers… even though we hadn't necessarily asked for it).
Well, there are countless reasons – a feeling of nostalgia, the urge to stand out, or a desire to be sustainable. But having had the opportunity to own an actual archival design from the house of Balenciaga, I've realized that BBags, like people, weren't created to die in mint condition. They were made to live a life, be your friend or a partner in crime. And I, for one, simply can't wait to get my hands on more!