Hi Megs,
So I've saved and can now treat myself to an 'IT' bag. Not enough for an exotic but enough for something around $2000. Given that this will have to be it until I get my next savings together, what would you recommend? I want it to be something that I can carry in jeans as well as in a suit to work. My wardrobe is mostly dark colors, OK black, it's mostly black. And ideally, I'd like to be able to get at least a mobile, a magazine, a small water bottle, and a wallet in there. So what would be a good bag for me to invest in? Thanks!
Mimi,
It is great to hear that you have saved up and are ready to splurge. With $2,000 you can buy an amazing bag (or even two amazing bags!). Since you want this handbag to be roomy for work yet wearable with jeans during the day, I would opt for a tote. I find that even if you say you only want to put a few things into a work bag, you always end up wanting to carry more. This is why the best work bag option to me is a tote, a great carry-all bag. The beauty of a larger bag is that it can still be trendy and fashionable enough to wear during the day.
But I have a different suggestion for you, go for two bags! Who is to say you can not get an exotic with $2000? I am telling you right now, you can get a beyond amazing exotic handbag deal and a more "it" brand bag, all for right about $2,000. Let me tell you my picks!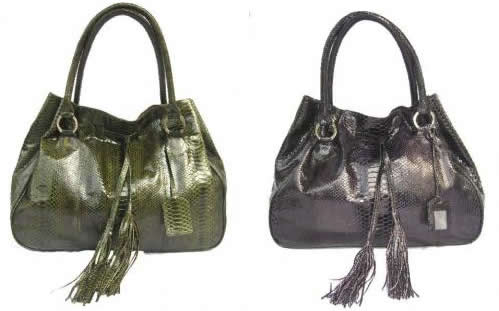 Now I will start with the exotic. The way to go is with an exotic larger bag, that can still be worn to work but can easily make a statement by itself. And my new exotic must have bag (just got it in red and am going to do an extensive review) is the D'Angel Tia Tote. This tote is amazing, on so many levels, I can not even explain it to you! It is rather large, easily could be used for work, but it also is able to be dressed down for a day in jeans or dressed up for a night out. The best part is the price. It is merely $600 at Lux Couture. For fall, this bag is available in red, green, black, purple, and natural. The choice is up to you on this; all of these colors are beautiful, but I would actually stay away from black. Pick a color that pops (red is so sultry and purple is a royal choice!). I realize that you said you want to buy one bag, but if I were to spend $2,000 right now, I would split it up for an exotic and a great "it" bag.
So now you have about $1,400 to play around with. The thing is, this number is a little hard to go right about, but we can work it out, or come close to it. This choice it up to you, do you want more classic or more trendy? I always say stick with something that can last a few seasons, no point in spending all of your money on a bag that will look way last season in a few months.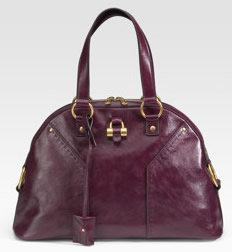 YSL Large Muse | $1,395 via Saks
The Muse has been the trendy it bag but has kept its stay power. People still see this bag, recognize it, and love it. To me, that speaks volumes. It hits the body well and looks very mature, yet again, can be dressed down for day errands. And the color, lilac, is stunning! I am partial to purple, but if you love to wear black, this is dark but gives a great pop of color.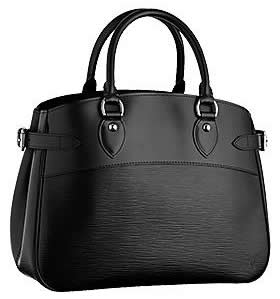 Louis Vuitton Epi Leather Passy | $1,410 via eLuxury
From Louis Vuitton, the Epi Leather line is one of my absolute favorites! It is relatively affordable but also logoless and easy to clean. The Passy is a refined shape and available in black, purple, ivory, and red. This bag will last you years, not just a couple seasons.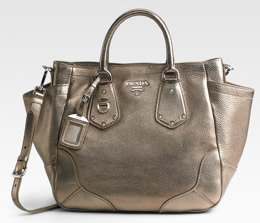 Prada Vitello Daino Tote | $1595 via Saks
Now Prada bags speak for themselves. The logo is well known and easily recognizable. I love how Prada designs totes. Many are simple, but they are wearable. And I am a huge fan of the metallic bronze, it will really make all your black outfits pop (it is also available in black though). This is a little over the price limit, but worth a look.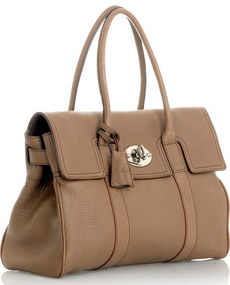 Mulberry Bayswater Bag | $995 via Net A Porter
This bag is not overly feminine, but the Bayswater is an ideal work bag. If you are going for recognizable, this to many is a well-known bag from Mulberry. Not to mention, you will have more money to save for a clutch if you opt for this bag!
Mimi, I hope this list helps some! The bags I chose for you are a bit more classic, but there are trendier bags to be had if that is what you want. If you are dead set on getting one bag nearer the $2,000 price range, let me know and we can re-hash this!
If you would like my advice on what bag to get next, please use our contact page and add 'Ask Megs' in the subject line.