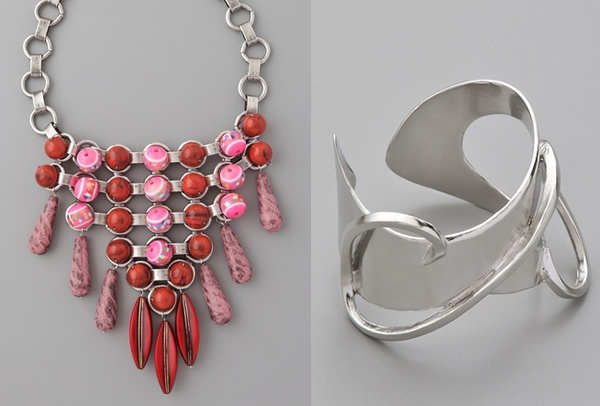 PurseBlog may be a site about designer handbags, but more importantly it is about the woman who loves designer handbags. She lives a certain lifestyle, she loves her jewelry, sunglasses, wallet, and clothing. She may style her outfit around her bag, but she is very aware of everything she is wearing. This woman is me. In fact, she is every handbag lover I know.
Recently I've been going gaga for jewelry. I blame it partially on Man Repeller and her Arm Party and partially on the fact that I simply love accessories. DANNIJO is a jewelry line designed by two very chic sisters that I adore for their funky, contemporary aesthetic, an aesthetic that is entirely me.
My mom recently bought a version of the DANNIJO Harper Bib Necklace and she gets compliments on it every time she wears it. I helped her pick it out, so now I feel slightly jealous over her owning it and not me. But I could change all of that by ordering this beautiful red and pink version. And to add the perfect finish, I'd pair it with the DANNIJO Benson Cuff in a malleable silver-plated finish. Necklace is $385, cuff is $282 via ShopBop.