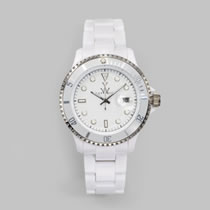 Ever since I first saw Chanel's J12 watch a few years ago, I've been intrigued by having a watch with a white band. And not a white leather band, either; like the J12, I want a hard, smooth band of white links. It just seems unexpected and fresh, like something my mother's generation wouldn't wear (and I guarantee you, if I bought this, my mom's reaction would be "Ugh, Amanda…*looks over the top of her glasses at me*).
I also prefer a chunkier watch – almost the size of a small men's watch instead of a women's watch. The way I see it, if I have to wear a watch, why shouldn't it be one that makes as much of a statement as my other jewelry, which is usually quite a statement indeed (says the girl with the necklace that is 3 pounds of solid stone – I weighed it!). I also have wide wrists, so many watches designed for women look kind of disproportionate on me.
So the Toy Watch Plasteramic Watch has me very interested. At $175, it's much closer to my price range, and although it does have a white band, I don't feel like it's a feature-for-feature Chanel rip-off (although, am I kidding myself with that? Tell me the truth). I wish that the face had a bit more personality to it, but for $175, I can placate myself with that beautiful white band.