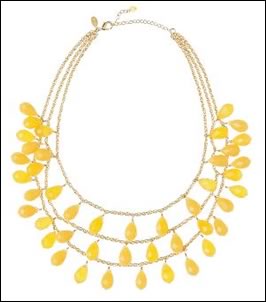 At times, it can be a challenge to find unique jewelry. At the first hint of something new, people like Forever 21 are falling all over themselves to copy it and sell it to the teens of American as quickly as possible. Not everyone can break the bank to buy one-of-a-kind pieces (ahem…I certainly can't), but everyone deserves the chance to develop their own personal style, right? I certainly think so.
Although Anthroplogie is certainly a big chain store (and part of an even larger company that includes Urban Outfitters, another terrible jewelry and accessories copier), it seems like their buyers go to great lengths to pay attention to detail and find unique pieces. According to the salesperson I talked to at their Lenox Square Atlanta store today, for many of their more expensive pieces (in the $100-$200 range), stock is limited to 2-3 pieces per location so that someone buying from them can be sure that they're getting something that they won't see half their friends wearing.
I walked away with two of their pieces today, one from their more expensive, limited-release collection and one from their regular, less expensive line and I'm very impressed with both of them. Both are modern and current, but just far enough left of trendy that they won't sacrifice your personal style to the gods of fad fashion.
First, I got the Limoncello necklace, which is three strands of candy-like yellow acrylic drops that look good enough to eat. On a delicate, detailed goldtone chain, the necklace will pop against almost any solid-colored top or offer an interesting counterpoint to a patterned dress for a summery night out. Don't be fooled by the cheery color, though; the hue of yellow is perfect for a summer-to-fall transition, and reminds me a bit of the kind of yellow that the leaves turn when temperatures cool down. $38 via Anthropologie.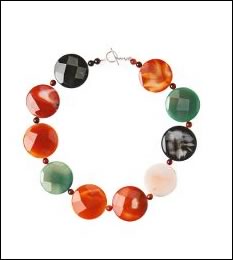 After I had already chosen that necklace, I moved on to the Discus necklace. It contains 10 round pieces of pure, thick-cut agate in shades of reddish brown, green, black and white, bevel cut and strung together with only small beads (also agate) in between. Although the construction is simple, the necklace is full of visual interest. Each of the stones is about an inch and a half in diameter, and they vary in shade and pattern greatly (and also from necklace to necklace – I made the poor salesperson get out the few that they had so I could choose the one with the most colorful stones). There's also no question that these stones are pure and solid – the necklace has quite a bit of weight to it. Buy through Anthropologie for $98.
I was wearing a v-neck black top, and as soon as I put the Discus necklace on, I knew it was coming home with me. The outfit went from being average to special immediately, and to say that this necklace is a statement piece would be putting it lightly.
A word of caution: Now that I look at these on Anthropologie's website, I'm kind of miffed. I paid more in-store for both necklaces ($7 more for the Limoncello, $20 more for the Discus). If you're planning to get either, order them from the website!