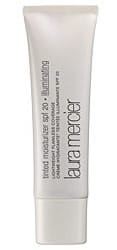 So, we don't do a whole lot of chit-chat about beauty products here, and for good reason. This IS a purse blog, after all, despite my penchant for posting about sunglasses, shoes, luggage, Project Runway, soon Gossip Girl (12 days! *Head explodes*) and lots of other things that aren't handbags. I don't follow direction well. Chalk it up to my "artistic temperament."
I generally try to play along, though, but I bought something a little while back that I think someone out there might really like, so I'm compelled to share, even if it's not a bag. So if you could humor me for just a moment, I would greatly appreciate it.
I have unreasonably dry skin (thanks, mom!). I'm 22 years old and using moisturizer made for post-menopausal women with wrinkles, and still, my skin is thirsty. This problem has always made it impossible for me to get the dewy, glowy look that so many women my age have on the red carpet, much to my chagrin.
Well, I got a product not too long ago that, all of a sudden, did it for me – the new Laura Mercier Illuminating Tinted Moisturizer. Put the stuff on and boom – radiant, supple-looking skin that looks like I just slept a thousand years in a vat of Oil of Olay. I still have to wear my regular moisturizer and an oil-based primer under it, but with those things together, my skin feels and LOOKS soft and wonderful all day, something that's normally not attainable to me.
A warning for girls with normal or oily skin: this product is SHINY. I imagine it would work great for you guys if mixed with your regular foundation (which is what it's actually meant to do), but I wouldn't advise wearing it all by itself. For girls with dry skin – give it a try by itself! If I get too much shine in one place, all I do is dust a tiny bit of powder over it and it goes away. Overall, it's a great, easy-to-apply (all you need are finger tips!) product that I can see myself using for quite a long time. Buy through Sephora for $42.