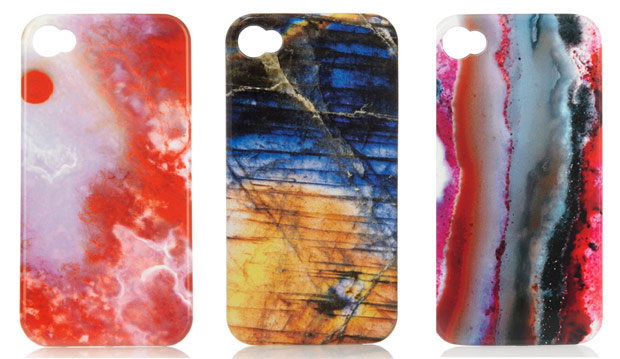 During New York Fashion Week, I spontaneously became a very late-arriving member of the iPhone club. (Don't make fun of me. I know it's been out for like six years or something at this point.) I went in to the Verizon store to buy a new charger, I walked out 20 minutes later with a brand new, extremely fragile phone. I've had a placeholder case on it ever since in an effort not to damage my new toy, but I'm still on the hunt for my perfect case of the moment.
That hunt got significantly more interesting yesterday, when Net-a-Porter added a bunch of Weston Stone-Print iPhone Cases to its offerings. Agate, Labradorite, Jasper, Marble…it's all there, up-close and in its naturally colorful glory. How timely that these cases should surface now, a mere week after Chanel's gem-obsessed Fall 2012 runway show. I want them all, and I've got up-close pictures of my three favorites after the jump. (more…)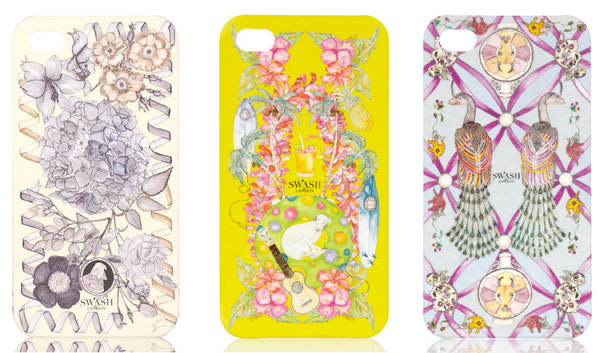 Even as someone who doesn't have an iPhone (Android, grumble grumble), I know full well that the market for cases, sleeves and protectors for the tech toys seems to be a tad, uh, saturated. Not only are there plenty of companies dedicated to making only accessories for Apple gear, but it seems as though every brand that has every manufactured any kind of apparel or tech goods would also like to sell you something to cover your phone. Everyone I know with an iPhone has a veritable wardrobe for it.
I can understand if iPhone owners feel like they have enough cases already, but even those with full tech closets should take a look at Net-a-Porter's fresh crop of Swash iPhone 4 Cases. They're a tad spendy at $70, but the feminine, slightly bohemian look of the cases is different than any I've seen in the past. (more…)
If you're looking for a reasonably priced holiday gift that you're sure the recipient has a use for, it's hard to go wrong with something tech-y. No matter how girly the girl, we all have iPhones and laptops and iPads (some of us) that are parts of our everyday lives, and making them a little more chic while maintaining functionality is a near-constant pursuit for young women.
That's why we've assembled a list of the finest high-fashion tech accessories as the latest installment of our Holiday Gift Guide 2011; from headphones to laptop cases to a bag to carry it all, we can outfit you for the next year and then some. (more…)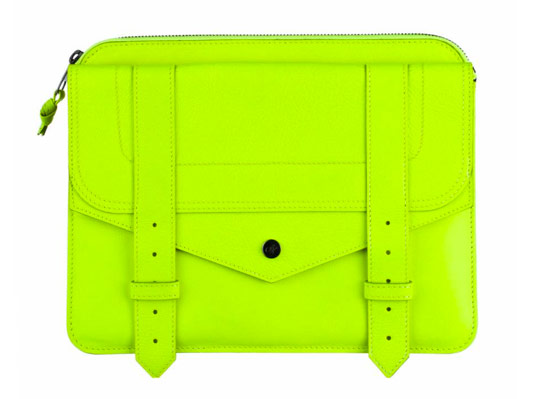 What if the case in question were the acid yellow Proenza Schouler iPad Case, which is easily the least iPad-case-looking designer iPad case I've seen since the advent of the product? How many more times do you think I can work the phrase "iPad case" into this post? I'd say that the over-under is six.
Anyway, this thing's kind of a looker, right? And at $685, it's cheaper than any of Proenza Schouler's other clutches by a long shot, and unlike most spendy iPad cases (1), this one actually has a functional front flap pocket and the same detailing as the rest of the brand's handbags. So I ask you: Why not leave the iPad at home, throw your regular stuff inside and carry this iPad case (2) as a clutch? (more…)
Totally important designer Azzedine Alaia does not have a website, but that doesn't mean that the brand eschews technology, particularly when technology might enable it to sell a few more accessories. Every brand under the sun has hopped on the iPad case trend, and the Azzedine Alaia Laser-Cut iPad Case is among my favorites, but unfortunately, it's also among the most expensive.
A basic iPad costs $500, but having guessed (correctly) that vanity gadgets appeal to those who might also want to expensively accessorize said gadgets, designer cases have skyrocketed in price. This two-tone beauty is one of the most expensive that I've seen in non-exotic leather, and with a price in excess of $700, it appeals only to those most committed to the fusion of fashion and technology. And perhaps those who should actually be committed. (I kid, I kid.) (more…)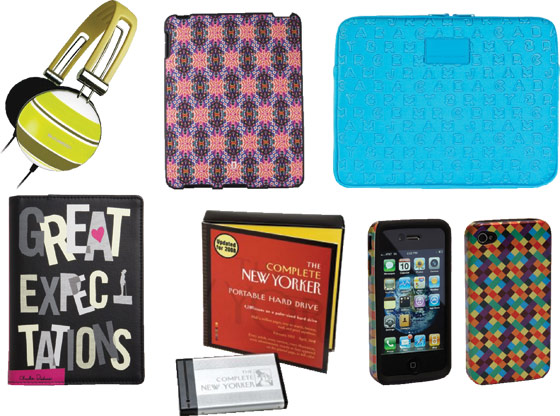 It's that time of year again! To launch our Gift Guides 2010 series, we thought we'd start small, with the type of accessories that almost everyone needs but people sometimes forget when looking for fashionable presents: Tech Toys. We have cute cases for every gadget in your collection, plus a couple other things that might come in handy (or just look really cool). Whether you're giving this stuff to your friends, your family or yourself, everyone is sure to find something they like where fashion meets function in the most literal sense. (more…)
I am not going to try to fool anyone by pretending like I don't love the iPad. Prior to its launch, I was vehemently opposed to purchasing one, despite having been a loyal Apple customer over the years. Once I got to play with it shortly after it came out, I was sold. I use it daily for browsing, email and an occasional game of Angry Birds.
I take good care of my gadgets, I keep my MacBook Pro sleeved during travels and care meticulously for the clean appearance of our miscellaneous displays around the house. But I have never encountered the urge to spend triple the amount that it costs me to purchase a gadget on a protective layer for the gadget.
Behold the Chanel iPad Case, formally known as the Chanel "Mallette en cuir noir" and weighing in at a staggering $1,555. (more…)