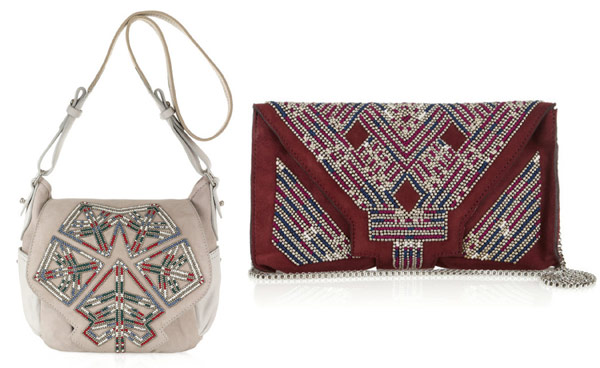 Isabel Marant Melly Embroidered Bag, $1235. Isabel Marant Malou Emebellished Suede Clutch, $1080. Both via Net-a-Porter.
Watch out, I'm about to commit fashion blasphemy: I find Isabel Marant a bit tedious. I like her clothing on an aesthetic level, of course. There's a reason that every supermodel and editor this side of Berlin is photographed wearing Marant almost constantly; her work is impeccable. But between her revulsion over women with breasts and her tone-deaf appropriation of the prints of native cultures that the Western world has almost entirely obliterated, she seems hell-bent on inhabiting every negative French stereotype that comes to mind.
That being said, I would wear the beads off of that burgundy bag up there. The Isabel Marant Malou Embellished Suede Clutch. Yep, and I'd hate myself a little bit for it. Why do people who annoy me have to make such pretty things sometimes? (more…)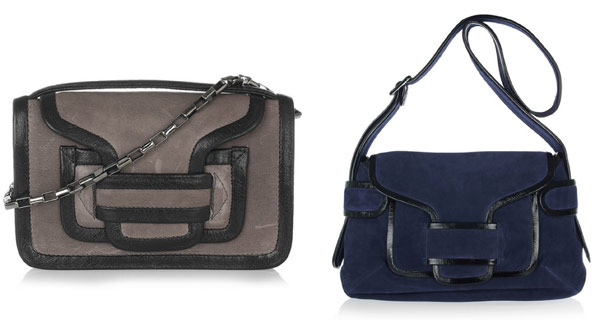 Pierre Hardy Leather Clutch, $700. Pierre Hardy Suede and Patent Shoulder Bag, $1350. Both via Net-a-Porter.
For most of you, Pierre Hardy isn't a new name by a long shot. The French designer is largely famous for his footwear, and his gloriously modern wedges in particular are what garner most of the (well-deserved) attention that comes his way. But what about Hardy's handbags?
His bags have been a cult favorite for years, but more and more retailers seem to be amenable to the charms of Hardy's bold, graphic designs. Particularly in the face of colorblocking and New Minimalism, the collection's omnipresent thick, contrasting leather trim and limited hardware fit right in with what's going on in the industry now. Several Pierre Hardy bags just popped up on Net-a-Porter for fall; you can check out larger pictures of my favorites after the jump. (more…)
With all the attention that Celine's immaculate Classic Box Bags have received, one would think that more designers at every price level would be jumping on the bandwagon to give the look a shot. Some have, to be sure, there are a few companies who I expected to see make the effort sooner.
Jil Sander is one such brand, and I feel as though I've been waiting to see the Jil Sander Lady Crossbody for at least two seasons. It's here! It's finally here! And it's very good. (more…)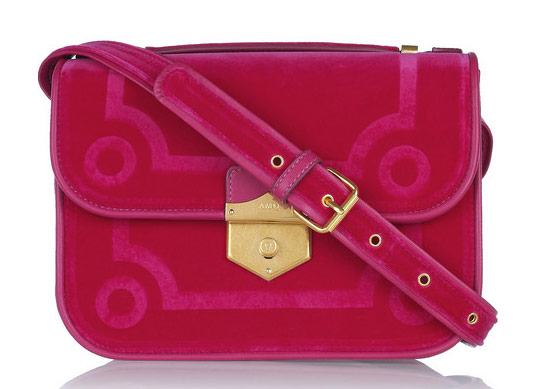 Alexander McQueen Wicca Velvet-Covered Leather Shoulder Bag, $1365 via Net-a-Porter
Designers seem to be trying to make velvet happen once again for fall, and despite being a child of the 90s and an unashamed fan of the era's grungy, highly questionable fashion, I've been slow to warm to the almost-trend. I remember having velvet T-shirts and dresses too vividly in elementary school for velvet to be an automatic winner in my mind as an adult.
But I'm a McQueen fangirl of the highest order, which means that I'm willing to consider basically anything the brand designs with an open mind. As a result, I might kind of totally love the Alexander McQueen Wicca Velvet-Covered Leather Shoulder Bag. If only I understood exactly what "velvet-covered leather" means. (more…)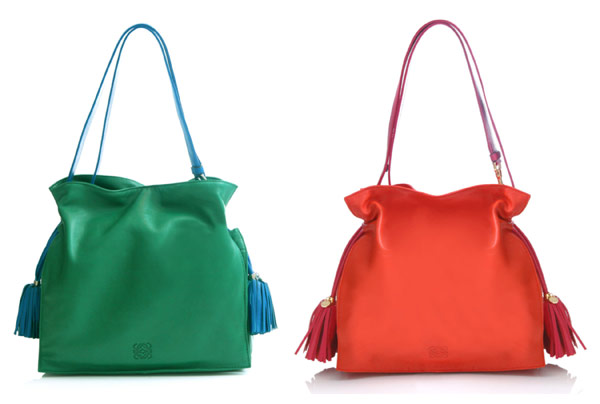 Loewe Flamenco Bag, $1726 via Matches in green and orange
If you've never seen a Loewe (pronounced Low-AY-vay) bag in person and they brand is available in your area, I'd encourage you to seek them out for a test drive around the department store or boutique of your choice. I still can't understand why so many starlets choose to carry the canvas version of the company's Amazona bag; leather is where the bags shine most brightly. And as with all brands that put an emphasis on materials, an in-person viewing is necessary to get the full effect.
Take the Loewe Flamenco Bag, for instance. It looks perfectly lovely in these photos, but a jaunt to Bergdorfs to visit one of its close cousins yesterday afternoon (and to buy the new Chanel Fall 2011 nail polishes) fully fleshed out my sense of the bag. You see that leather? It's amazing. The colors are vibrant. And this design, unlike the tote that I saw from the same line, can be used as either a shoulder bag or a crossbody. (more…)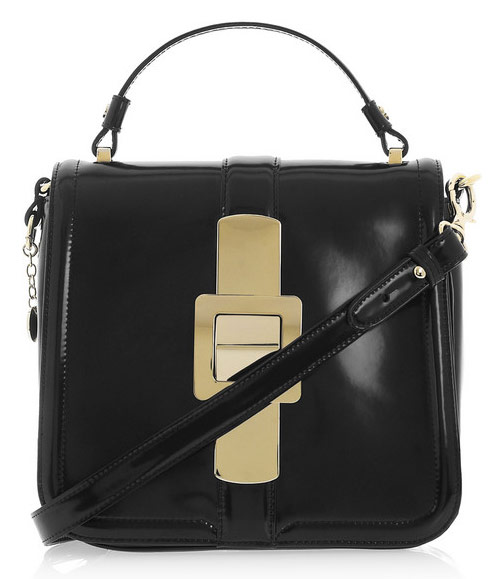 Milly Leather Shoulder Bag, $395 via Net-a-Porter.
For better or for worse, "contemporary" bags often have a particular type of look to them. They're often slouchy and supple to appeal to a younger customer who wants a more casual look for a less painful price tag, which results in some great bags that have a look I'm proud to support. But it also means that for a clean, tailored look, we have to look for more expensive bags that use more costly materials and appeal to a customer who's a bit older. Until the Milly Leather Shoulder Bag came along, that is. (more…)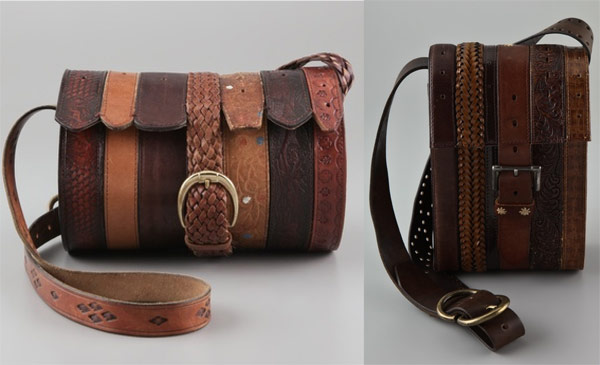 Rodarte x Opening Ceremony Cylinder Belt Bag and Rodarte x Opening Ceremony Square Belt Bag, $785 via ShopBop
Predictably, my initial reaction when I heard that Rodarte x Opening Ceremony's accessory collection would include belt bags was somewhere along the lines of, "OH GOD NOT ANOTHER FANNY PACK." Fanny packs should be banished forever to the furthest reaches of hell. You hear me, fashion industry? No more fanny packs. Do we understand each other?
Obviously, though, the Rodarte x Opening Ceremony Cylinder Belt Bag and Rodarte x Opening Ceremony Square Belt Bag aren't fanny packs – they're literally bags made of belts. Vintage belts, to be exact, and they come in all textures and shades of brown, no two exactly alike. And, well, they're…interesting. But at least they're not fanny packs. (more…)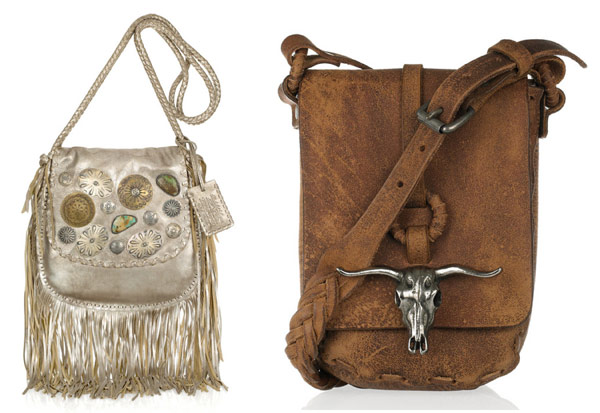 Ralph Lauren Collection Fringe Embellished Shoulder Bag, $3995 via Net-a-Porter. Ralph Lauren Collection Bull Head Embellished Leather Shoulder Bag, $995 via Net-a-Porter.
When I think of Ralph Lauren, there are some automatic associations I have that the brand has spent decades making sure I think of: Polo shirts, horses, women with carefully tousled blonde hair, people who have more money than Oprah. The reality of the brand's average customer may be a little less glamorous, but based on the women who I normally encounter inside of Ralph Lauren Collection boutiques, those brand images do come from somewhere. What I can't figure out is how that ties in with the Ralph Lauren Collection Fringe Embellished Shoulder Bag and the Ralph Lauren Collection Bull Head Embellished Leather Shoulder Bag. (more…)
In case we haven't said it enough: Kate Spade's spring collection is kind of totally brilliant. It's girly, pretty and very Kate Spade, but with a witty edge that has really pulled the brand into the forefront of the contemporary price point. I've already bought my first bag from the line and I'm eyeing my second one.
The Kate Spade Jardin Tweed Robin Shoulder Bag skews a little too girly to fit into my wardrobe, but for someone with a very feminine style that tends toward vintage, this could be an absolutely perfect spring bag. With the notes of lime, coral and lavender running through it, I'm sure you can find a bright dress to pair with this bag. (more…)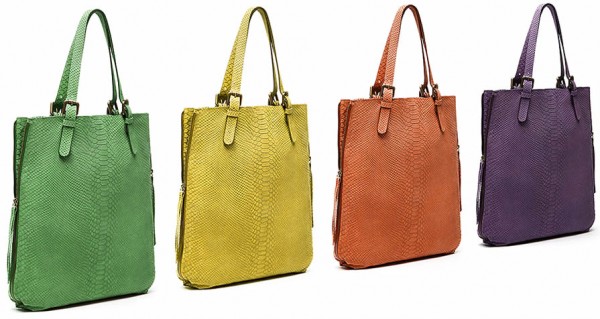 You know what I hate about Gerard Darel? The difficulty in finding its bags online for purchase and having to track them down in select stores. Otherwise, I am a massive Gerard Darel fan. And many of our readers and PurseForum members are as well. I own the Midday Midnight Hobo and I can do nothing other than sing praises of the bag. The leather is thick and smooshy, the design characteristics are both simple yet chic, and the overall appeal is evident. We all need more Gerard Darel in our lives – so please listen to us online retailers, carry the brand!! (more…)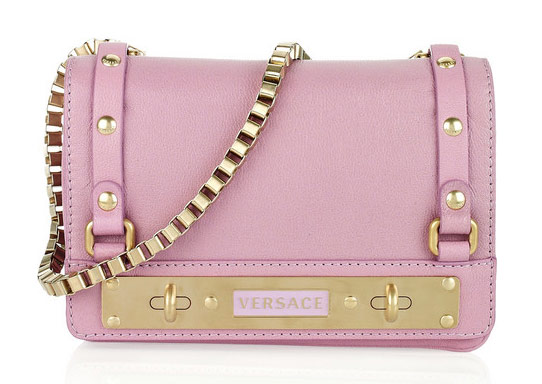 The only problem with the Celine-influenced trend toward classic, clean-lined box bags is that not everyone has a classic, clean-lined personal style. Some people prefer a little bit of razzle-dazzle, and those people would be well served to take a look at the Versace Leather Shoulder Bag. Gird your loins, ladies and gentlemen, for I am about to say something nice about a Versace bag. (more…)